Week 07th June

Hi parents.
It's been a very productive first week back after half-term.
In infants phase, we are revisiting our sending and receiving skills (throwing and catching) using different equipment. We have used large equipment which is easier because of the surface area and then turning to smaller equipment to make it harder for them. I am setting the children different challenges such as reaching a higher height when sending the ball into the air, adding 3 claps before the ball returns to their hands and then combining the claps with sitting down before the ball returns.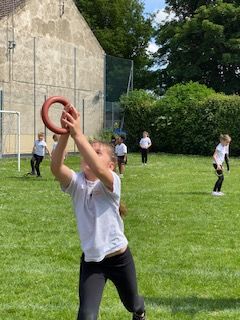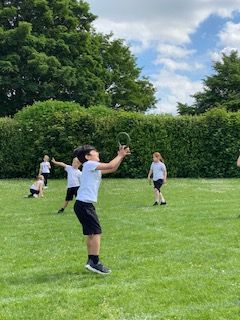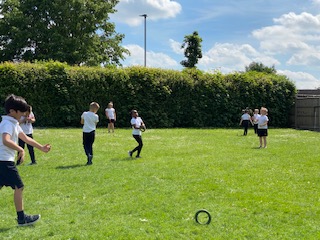 In Lower KS2 we have now begun practising for sports day. This week we have looked at how the day will run and getting the children into their groups ready for competing. We also started some races. The sprint race is the one we always begin with, then we move onto the egg and spoon race. Next week will be the sack race and the children are excited as I've added a little twist to the race. Look out next week for photo's.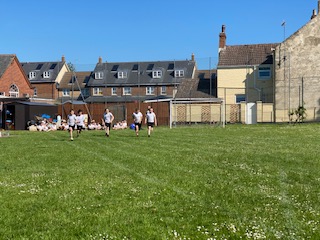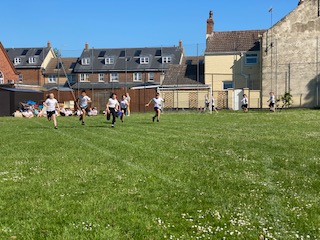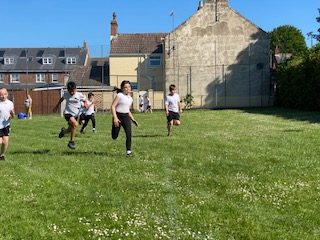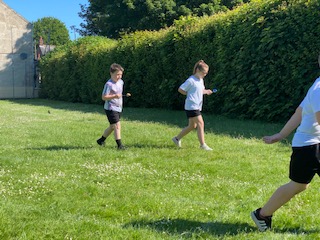 In Upper KS2
We are looking at target and aiming practice therefore we've decided to continue our work on dodgeball and rounders. We have a dodgeball competition next week also, so I've been looking at who has really taken on board our aims and objectives in order to attend. The Year 6 children are having shorter lessons as we are using some of their time to practice our leavers assembly however the children are getting the required PE time they are taking part in dance/gym sessions with their class teacher.
Upper KS2 will also get chance to revisit the sports day preparation closer to the date.
Many thanks, Mr Callaby
Week 24th May
Hi parents,
This week the children have completed this half-term's learning of handball along with sports day practice and rounders/dodgeball for the older children.
Here are some pictures of penguins class taking part in their handball matches.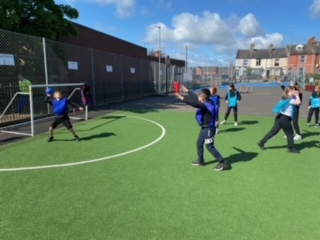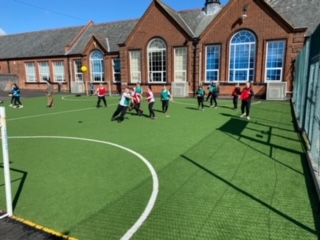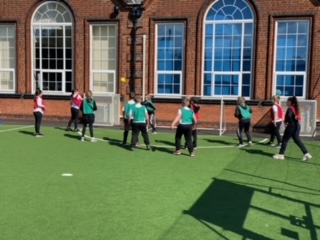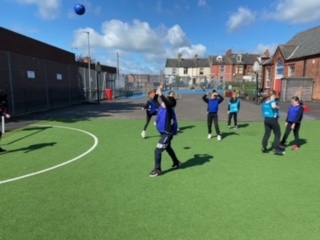 After half-term Upper KS2 will begin their sports day practice. Lower KS2 will also begin their sports day practice. Infants will take part in outdoor games.
Week 17th May
Hi parents.
Another busy week has been completed in the PE department.
We have continued with our sports day practice in infants with the children relaying what they had remembered from last week. Impressively, lots was remembered which is great. The children really enjoy competing against each other and many staff members have commented on how good it is to see the children getting prepared and supporting each other.
In Lower KS2 the children have begun taking part in handball matches. A massive part of handball is working alongside one another and applying good communication skills in order to score as many goals as possible. We have really focused on using and applying tactics throughout the game in order to achieve the best possible result.
In Upper KS2 the children have been working on forming a game of rounders, with great success. The children took part in some aiming and batting activities prior to the game in order to ensure their skills are where they need to be. Once these skills were applied, the children had great fun taking part. The team captains for the matches were great with directing their team as to where they need to be whether that's guarding a post, backstop or out fielding.
This is a great team sport and the children always enjoying taking part.
Well done children for a producing a very productive week.
Week 10th May
Hi parents.
We have had another amazing week in PE throughout the school.
This week Infants and Upper KS2 have begun practising their sports day races ready for July. We have focused on our sprint races along with egg and spoon and the sack race. The children have told me they really missed not having a sports day last year, so they are really excited we will be holding the event this year.
Upper KS2 classes have looked at long distance running with really impressive results. We have discussed what long distances running should look like and how the children achieve being able to run over a period of time without stopping.
Three children ran amazingly with an outstanding result.
One child from Magpies class ran for 33 minutes continuously.
The other two children ran for a total of 40 minutes, 21 seconds continuously.
Lower KS2 have been focusing on Handball. They have learnt all the skills needed to compete in a handball match so our plan for the next two week's is to take part in some matches and apply all of our previously learnt knowledge.
Great learning from all children this week, lets aim for more next week. Well done.