Week 7.6.21
Puffins class have had a busy week back after a very hot half-term!
In Literacy, we have moved on to our new Power of Reading book about a snail with an itchy foot! The children have begun to learn about sea snails and have compared them to garden snails, noticing that their eyes are different! We have also looked at how emotions can be shown through drawing and have drawn our own snails. The children have been thinking about how they might feel if they were a member of the snail's family and the snail told them she wanted to leave.
We have continued the theme of snails in our Phonics lessons, learning about the 'ai' sound. We have noticed that it can be spelt differently but still have the same sound. We have learnt words such as tale, whale, snail and sail.
In Maths, we have been learning how to use number tracks, number lines, bead strings, tens frames and part-whole models. We have been using these to complete addition sentences, looking at adding a two-digit number to a one-digit number. We have also moved on to finding all the number bonds to ten.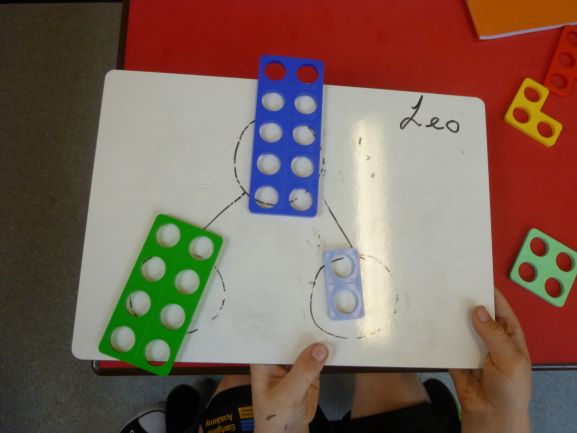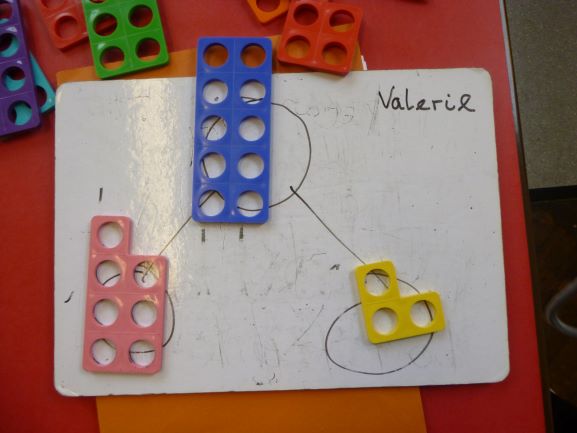 In Computing this week, we have created our own pictograms based on the classes favourite fruit. In Science, we have continued with materials, looking at objects that are opaque, transparent and translucent. We have also now learnt how to write all the Curly Caterpillar family letters in pre-cursive handwriting and the children frequently challenge themselves to do their beautiful letters. In DT this week, we are creating food hygiene posters and learning how to cut some vegetables!
Please remember to bring water bottles and hats to school for your children.
Please remember PE is on Thursdays.
All the best,
Miss Stratton, Mrs Anderson and Amy.
Week 24.5.21
This week we have been busy writing in our best books to showcase our amazing Literacy work we have completed on 'Beegu'. The class were sad to finish the story, showing that they thoroughly enjoyed the lessons that we have been doing!
In Maths, we have been learning how to find tens and ones. The children then used this knowledge to answer missing number questions in our new Power Maths books.
In ICT this week, we made a pictogram — adding class data about how we all get to school. In DT, we are making our own hummus! Last week in DT, we tried celery, cucumber, pitta bread and tortilla chips. The children are enjoying our DT lessons, and I am looking forward to seeing how they will get on making their own hummus. In our Science lessons, we have continued looking at materials and their properties, this week learning new vocabulary such as rigid, flexible, soft, hard, light and heavy.
We have now also finished one of our hall displays showcasing your children's amazing work on the solar system. They worked very hard to create a solar system using wax crayons and wrote down facts about the planets and the moon.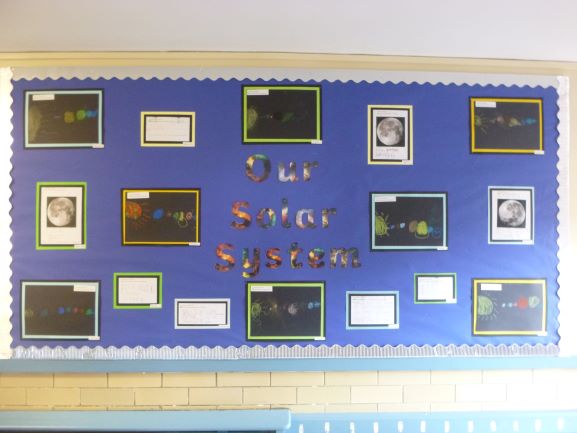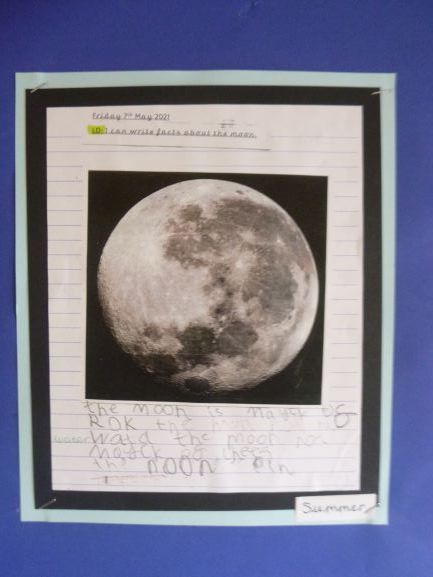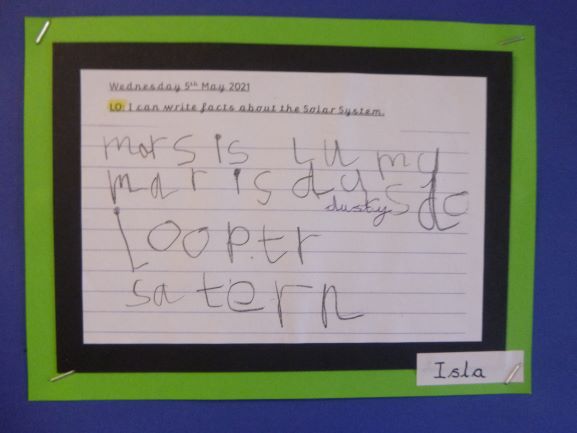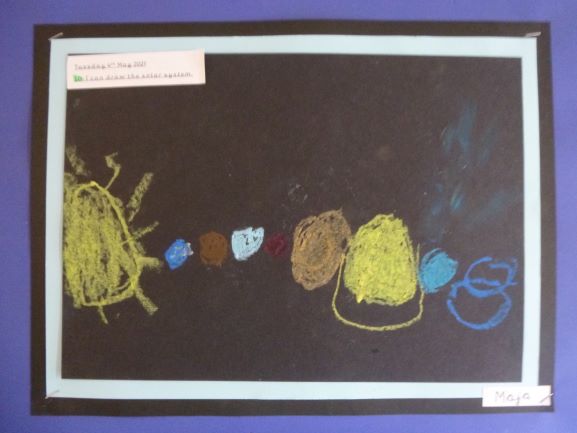 We hope that you have a lovely half-term!
Best Wishes
Miss Stratton, Mrs Anderson and Amy.
Week 17.5.21
Dear Parents and Carers,
This week we are creating are our own Guides to Earth for our Literacy book 'Beegu'. We have worked hard all term learning more about Beegu and found out all about her planet Blegip today! We learnt about non-fiction and have bought some non-fiction books into the classroom for the children to look at.
In Maths, we are looking at adding ones, using our new Maths books! The children have been resilient and excited when learning how to use this new format.
We have been busy during our afternoon topic lessons. In ICT, we have been sorting shapes on the computer, in Science we have learnt all about materials and their properties. In Music, we listened to Supercalifragilisticexpialidocious, which the children loved! In Geography, we have looked at continents and this week we are learning about Europe. Last week in DT, we tasted guacamole, hummus and salsa! This week, we are trying dippers that may accompany a dip. I wonder what the children's favourite will be!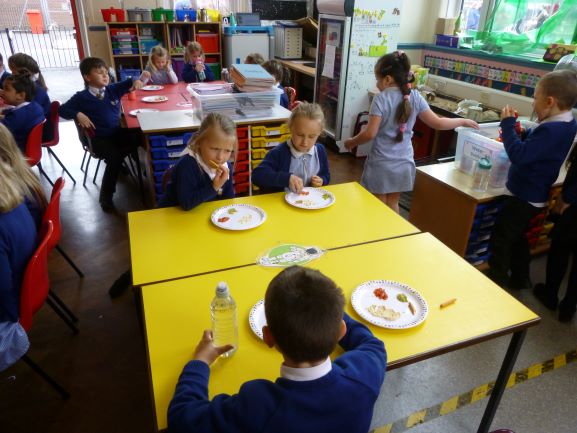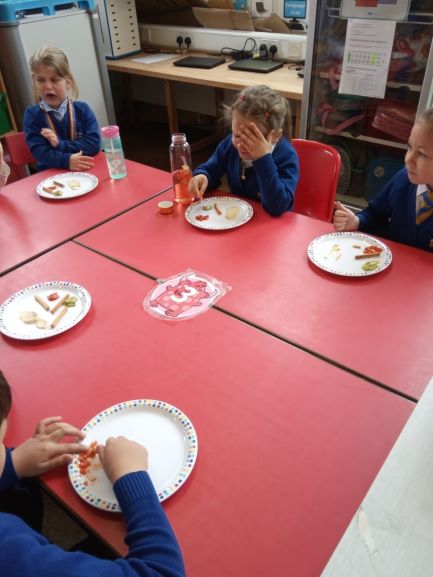 Best Wishes
Miss Stratton, Mrs Anderson and Amy.
Week 10.5.2021
Dear Parents and Carers,
Hello, it has been another busy week in Puffins this week and all your children are working very hard.
We have been emptying the planters in the Science Garden ready to plant new things! The children have been enjoying digging and being responsible for part of our school.
Here are some of the other things we are learning about:
Maths: Adding within twenty, we have brand-new Maths books that the children are enjoying, and they are becoming more responsible for their own work.
Literacy: We are continuing with our story 'Beegu' and are preparing to finish the sequence, writing farewell letters to our new alien friend.
Science: We are looking at materials in Science and have used Venn Diagrams to sort materials and the things they are made from.
Please remember PE is on Thursday.
Best Wishes
Miss Stratton, Mrs Anderson and Amy.