Wednesday 22nd June
Robins have been investigating Van Gogh Sunflowers this week. We checked on our giant sunflowers that we planted earlier in the year. We observed the flowers and how they have changed, we spent some time talking about the life cycle of a sunflower. We then created some jumbo art on plastic sheets and finger painting, created a sunflower of kindness and made sunflowers using forks to make the shapes.
Penguins and Doves used the firepit in DT Outdoors to cook popcorn and toasted marshmallows. We used our literacy skills to talk about onomatopoeia words. We enjoyed tasting the things that we had made ourselves and were pleased that our experimental cooking had worked.
Puffins harvested the potatoes that we had grown this year. We cut the potatoes into small chunks, harvested herbs from the science garden and cooked them in small foil parcels on the embers. "Best potatoes EVER!"
Wednesday 15th June
Eagles finished their materials investigations by making catapults. They tested many different kinds of materials, dried spaghetti, pipe cleaners, wool etc to see if they were stretchy or rigid. They all agreed that elastic was the best material. We then spent some time learning to fire our catapults using ping pong balls.
Penguins finished off their team building sessions and we celebrated by having some free time in Outdoor Education, they all loved exploring the mud kitchen, digging holes and bug hunting.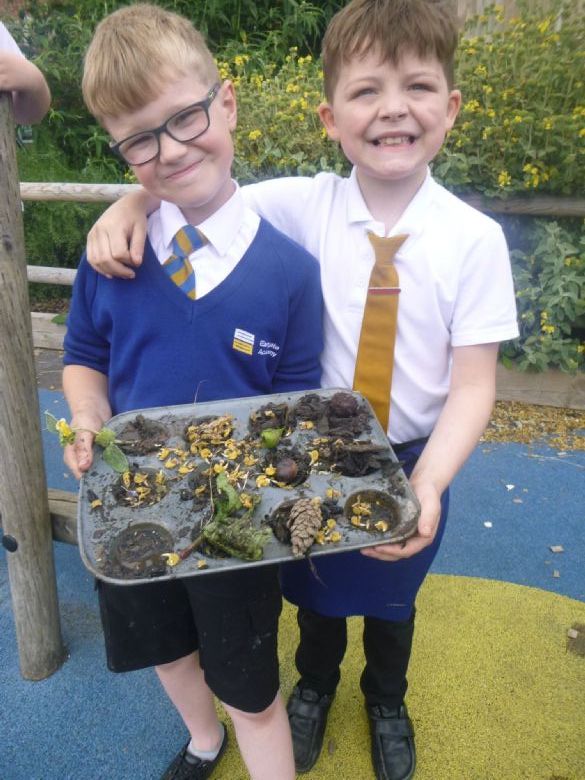 Doves class spent the morning investigating different fruits. We used knives to cut the fruits up into chunks and threaded them onto skewers. The fruit had to be in order of the colours of the rainbow. All the children enjoyed trying the different fruits, we even planted some of the seeds in the Outdoor Classroom in pairs to encourage pollination if they grow.
Puffins finished their Art lessons by learning about stone stacking and some local artists that stack stones on the nearby beaches.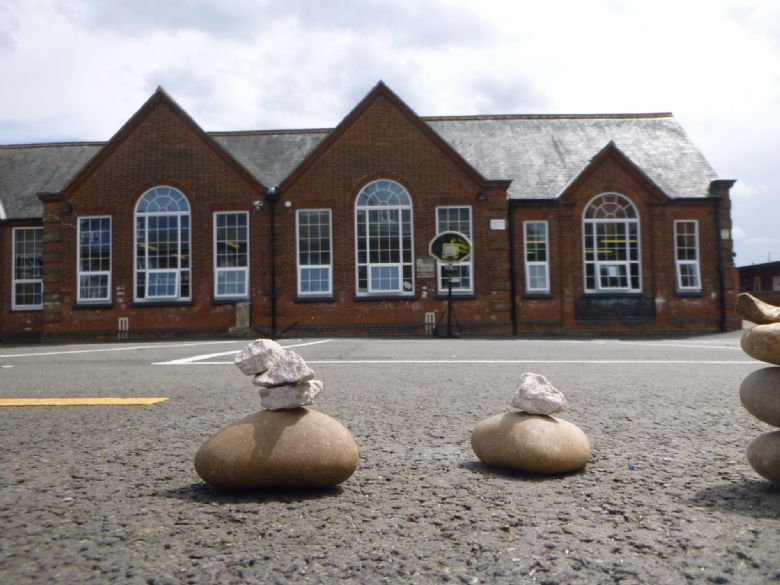 Wednesday 8th June
It was a rainy day for Doves Outdoor Learning, so we donned our wellingtons and waterproofs and had a glorious morning puddle jumping, splashing and learning different ways to transport water. We got wet!
Eagles also spent time transporting water in different materials such as handkerchiefs, cardboard boxes and flower pots. We discussed why this was not successful and gathered more suitable items to transport the water. We also filled a large container with cobblestones and talked about water displacement. The children spent time trying to drop small stones directly on top of the large ones. We also talked about sediment, as the water became cloudy.
Puffins finished their Art Module with time spent stacking stones and natural objects. We looked at the Art Work of Andy Goldsworthy and tried to recreate some of his pieces on a smaller scale.
Robins spent the day continuing to investigate bees. We learnt a Bee Song and talked about pollination. The children made finger puppet bees and we then used crushed up wotsits and mini marshmallows to represent the pollen in a flower. The children used their finger bee legs to move the pollen from large flower bowls to large paper flowers. They could see how the paper had stained as they moved the pollen around. We then spent time looking for pollen, and was lucky enough to see a real bee carrying pollen on his legs.
Wednesday 25th May
Eagles and Robins have spent their Outdoor Learning time celebrating the Queen's Platinum Jubilee. We painted large leaves with the Union Jack to created bunting for our Celebrations, we also made the Royal Jewels using wooden beads and natural objects, we made Nature Crowns and created some delicious Afternoon Tea treats in the mud-kitchen. The children also made Jubilee Sticks for our celebrations using red, white and blue wool and attached small bells, so they could wave them throughout the parade.
Wednesday 18th May
This week in Outdoor Learning we have all been working very hard.
Eagles have been working on their science to see how materials can change shapes, or if that is possible. We made play dough and explored shape making and changing too.
Robins Outdoor Learning day fell on National Bee Day, we spent time hunting for bees, identified different species. We also tasted some honey, buzzed around like bees and made Queen Bee crowns.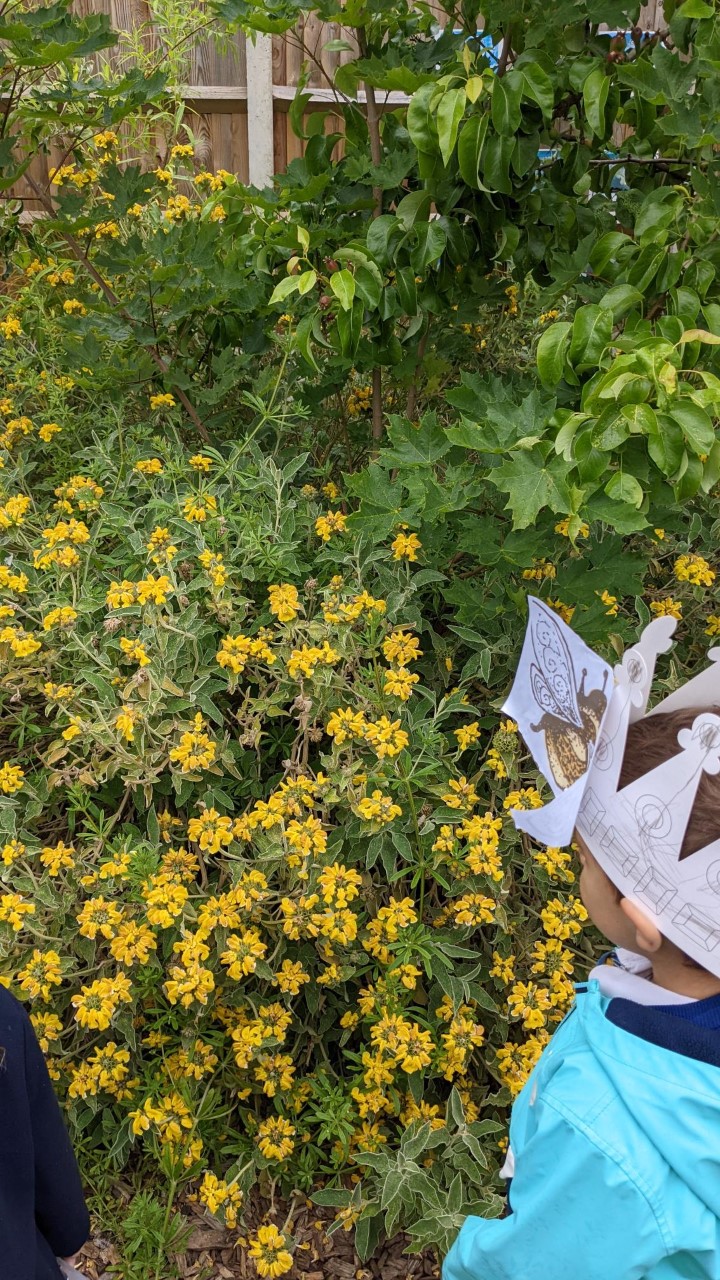 Doves have been learning about Worldwide Farming. We drew maps in chalk of the world on the playground, and then had to work out which fruit came from which country in what season. We talked about carbon footprints, locally sourcing our food and the importance of bees. The children all received a seed bomb to plant on the way home.
Puffins have continued their Art Sculpture projects. This week we were looking a space in Art and what that means. We made mud sculptures that had to contain spaces. We also decorated them with natural materials.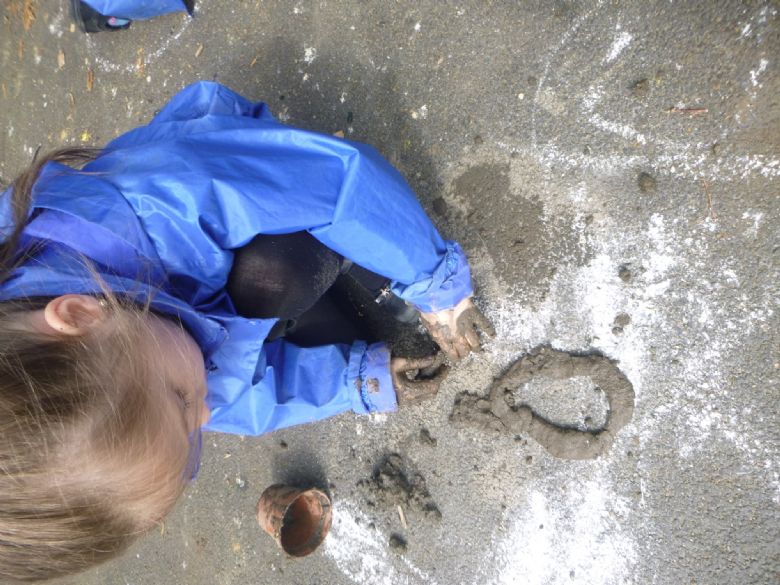 Penguins were working on their PHSE and looking at ways to adopt a positive mindset. We took the poem called "The Wrong Start" by Marchette Chute and read it, we then re-named it "The Right Start" and the children worked in pairs to create a positive end to each sentence. They used props and acted them out to the rest of the group.
Thursday 12th May
Reception has been following up their Art work in Oudoor Learning by creating some jumbo art on bedsheets of Kadinsky's Concentric Circles, they also used paper plates to collect natural objects and glued them onto the plate in concentric circles.
Year 1 continued their sculpture work with clay. They formed sculptures of people that they aspired to be. We had quite a few Spider-Man and Elsa sculptures!
Year 2 have been continuing their Science, this week we have looked at absorption and which material would make the best kind of home-made Wellington boots.
Year 3 have been investigating Sustainable Farming in their PHSE Lesson, and have been constructing different kinds of Chicken Farms after learning about Organic, Free Range, Barn and Battery chickens.
Year 4 have been learning about overcoming obstacles in their PHSE, we talked about positive and negative feelings, played a game on how to overcome these feelings, and finished the sessions with a snail race, great fun was had by all.
Thursday 5th May
Wow! Last Friday we went on a Key Stage 1 Trip to Pensthorpe near Fakenham. All the children had the most amazing time connecting with nature, bug hunting, den building and pond dipping. We saw lots of goslings and ducklings too. Please see your child's invidual class site for photo's. I was so proud of how well the children conducted themselves throughout the whole day.
Year 1 have continued with their outside Art Curriculum, this week we made our own mud and created some amazing mud sculptures in the form of Henry Moore.
Year 2 have continued their Science investigations with different materials by exploring the outside for different objects made of different materials, using chalk on the playground to categorise them.
Year 3 have continued with their PHSE, and we spent a lot of time talking about food that would grow quickly for us to harvest after the holidays to use in Outdoor cooking lessons. We planted lots of fresh herbs, mini carrots, nasturtiums, beetroot, micro greens and four varieties of lettuce.
Year 4 continued with their PHSE too, this week we worked on our aspirations and the children used transient art to reflect upon something they would like to aspire to be able to do.
Thursday 27th April.
We have kicked off the new Summer term with some super exciting activities. Year 2 and Reception have been using hammers to do some "flower pounding". We took a walk around the school grounds gathering flowers and leaves to make a pattern with and used the hammers to hit the flowers etc so their natural dyes stained into the fabric. Year 2 turned theirs into flags banners wood they sourced in the outdoor classroom to create a hanging pole. Reception used the same skills to design their own t-shirts which they were super happy to be taking home, wearing their very own unique designs proudly.
Year 1 have been working on their Art Curriculum outside, we have been investigating the Artist Henry Moore and have been making sculptures from newspaper!
Years 3 have been investigating food sustainability, and we weeded and prepared the veggie beds for our upcoming project.
Year 4 have been following PHSE in Outdoor Learning and we have been working on our achievements, aspirations and goals.
Thursday 31st March.
We have spent the week finishing our Team Building Lessons. We celebrated throughout the week with an Outdoor Learning Easter Egg hunt, and decorated lots of little Easter eggs to hang throughout the trees. The weather has been lovely and we have all enjoyed hunting for chocolate.
Thursday 24th March.
We finished Science Week last Friday in Robins. We spent a lot of time in Outside Continuous Provision. We weeded all the flower tubs, found worms and small beetles, planted lots and lots of herbs for the Nature Kitchen Sensory Area, we also planted carrots, sunflowers and peas. The children loved moving the soil from the wheelbarrow to the tubs, and we added a bit extra to the Nature Kitchen area, for fresh potion making.
Doves had a real treat on Monday, we were lucky enough to be visited by a Harris Hawk called Ace. His owner even gave us a little talk on Hawks and Owls. We then carried on with our Team Building Challenges. This week we were working on riddles, the children loved finding natural objects to write their own riddles about. Even the adults had to think outside the box to work out the answers. Great job Doves!
On Tuesday Puffins took to Outdoor Learning, and we spent time discussing characters. They chose their favourite character and then with a friend created a new character, we then used all the natural materials we could find to build our new character in Transisent Art.
Thursday 17th March.
Phew! It's been a beautiful sunny and warm week. We have enjoyed experiencing the beginning of Spring whilst and we have been busy celebrating Science Week. Science Weeks Topic is ''Growth".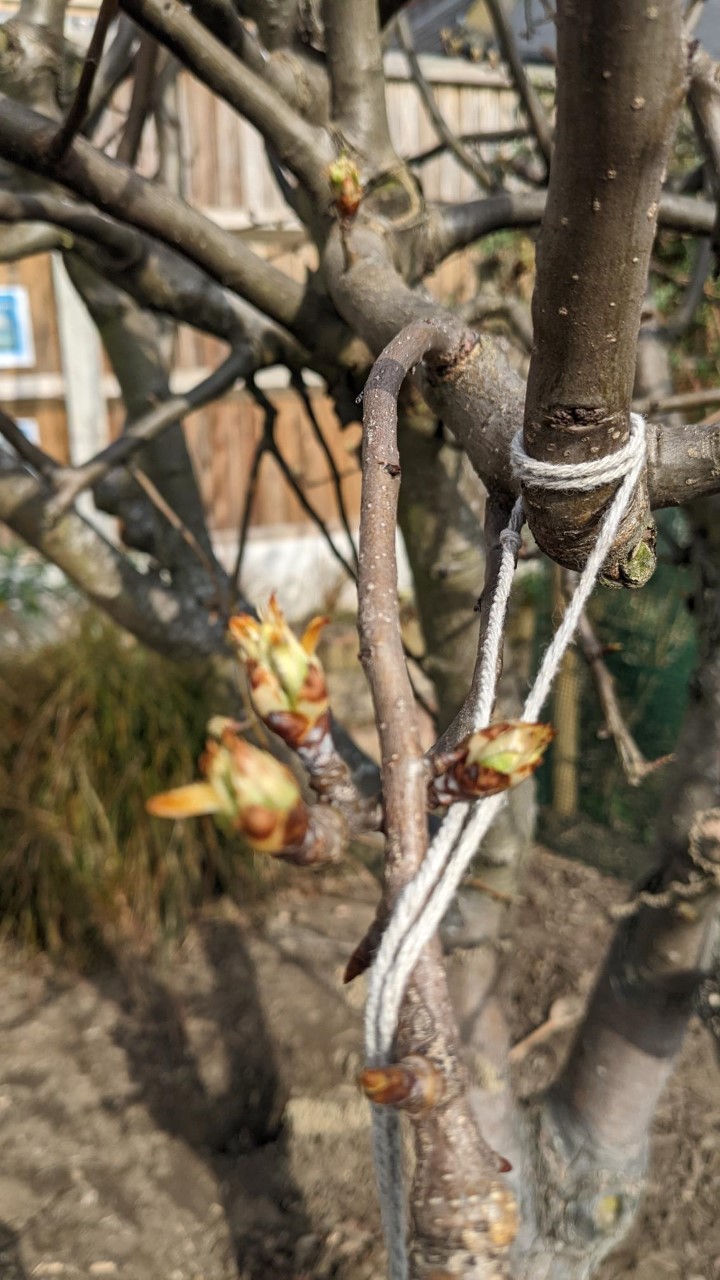 Eagles have been looking at Seed Dispersal, by hiding 'acorns' and trying to recover them at the end of the lesson.. We talked about what would happen if we didn't find them all. We also planted Little Gem Lettuces and Wondrous Webb Lettuces. We enjoyed stories on life-cycles.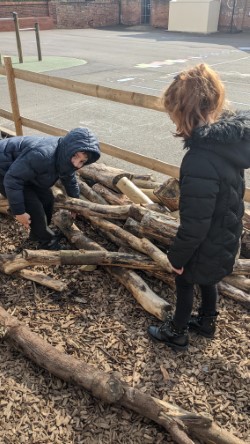 Puffins took part in the same seed dispersal game. We then followed up their previous recycling topic, by using large plastic packaging to use to plant our potatoes. They have also weeded and tidied up the Year One continuous provision area, adding red and white onions, dwarf purple beans and some wildflowers.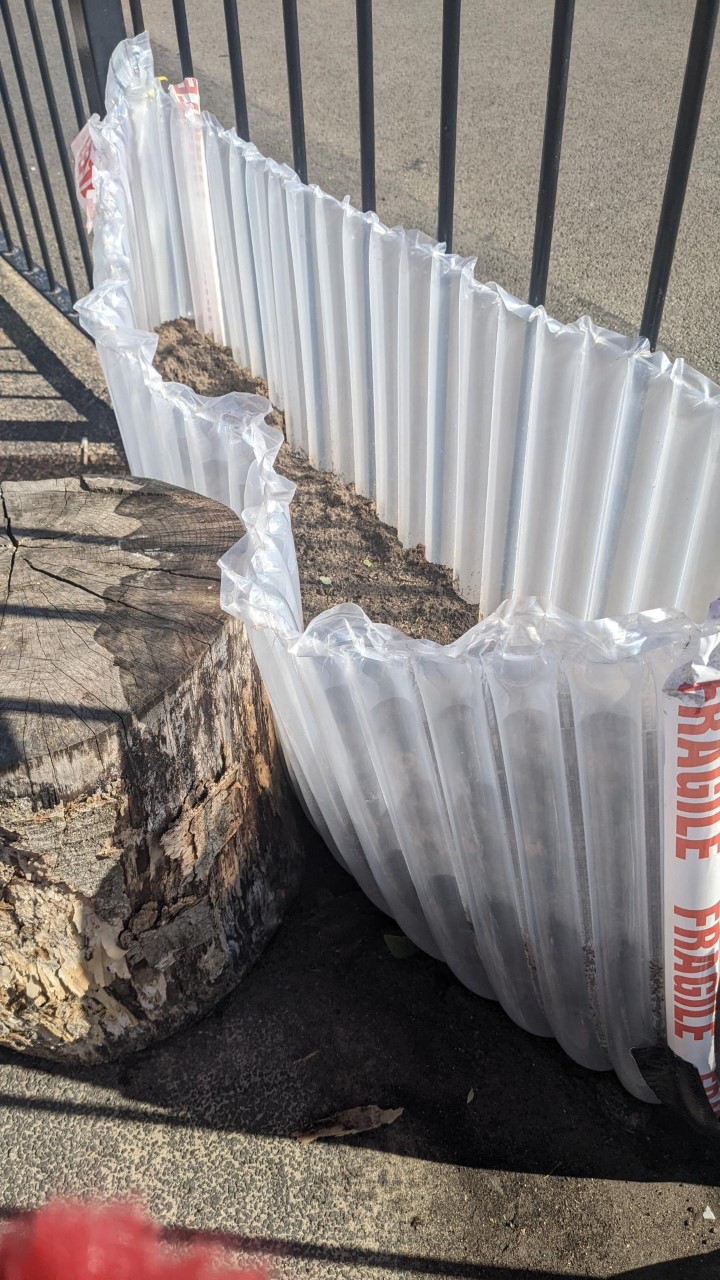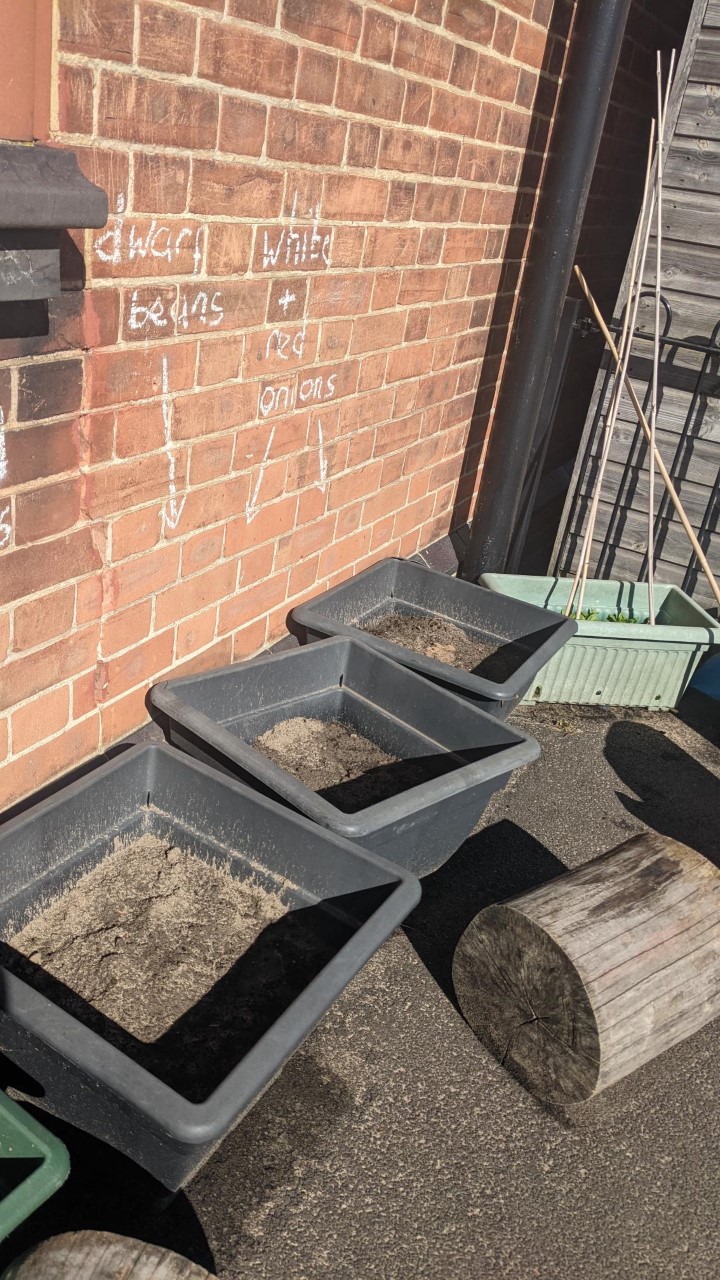 Doves have continued with their team building skills. This week working together to build giant mazes on the playground in teams and then using positional language and trust to navigate each other through. Their ideas were amazing, and involved bridges and tunnels too.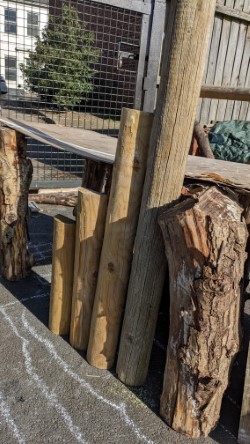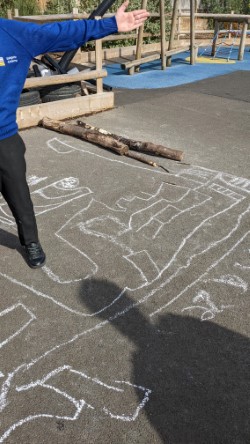 And just because it's wonderful to see. We were joined twice by a Mallard and Drake, who were bathing in the sunshine near the firepit!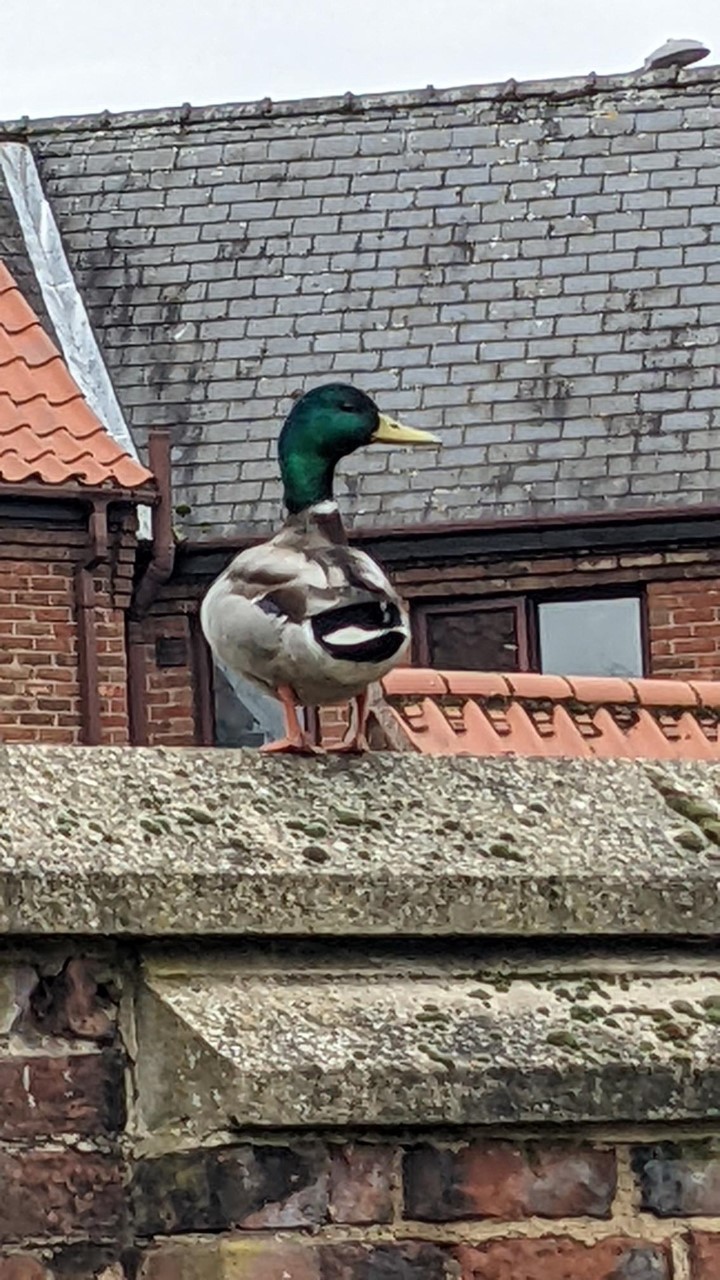 Thursday 10th March.
Doves thoroughly enjoyed the Water Transport Team Building Challenges this week and worked really hard together to try and beat the other teams. We found that flat pieces of wood are not good for carrying water. However, an empty coconut bird-feeder transports water really well. Our winning teams transported over 5 Litres of water this way.
Eagles have finished working on the riddles and began a new challenge called 'Creative Minds'. They needed to drawing each other in chalk after observing each other's features for a minute. They then worked with their partner, back to back, to create the portraits.
Puffins spent the day preparing the ground for growing some edible flowers, sowing sunflowers, nasturtiums, sweet rocket, garlic chives and some sugar snap peas. They also went pine cone hunting to replenish the bug hotel. In the afternoon we spent time planting 50 wild seed bombs on the field and admiring the power of worms.
Thursday 3rd March.
Super excited that Doves have now joined Outdoor Learning on Mondays. We are working on our team building skills. We spent the morning discussing the rules of working together, and used transient art to make the rules in picture.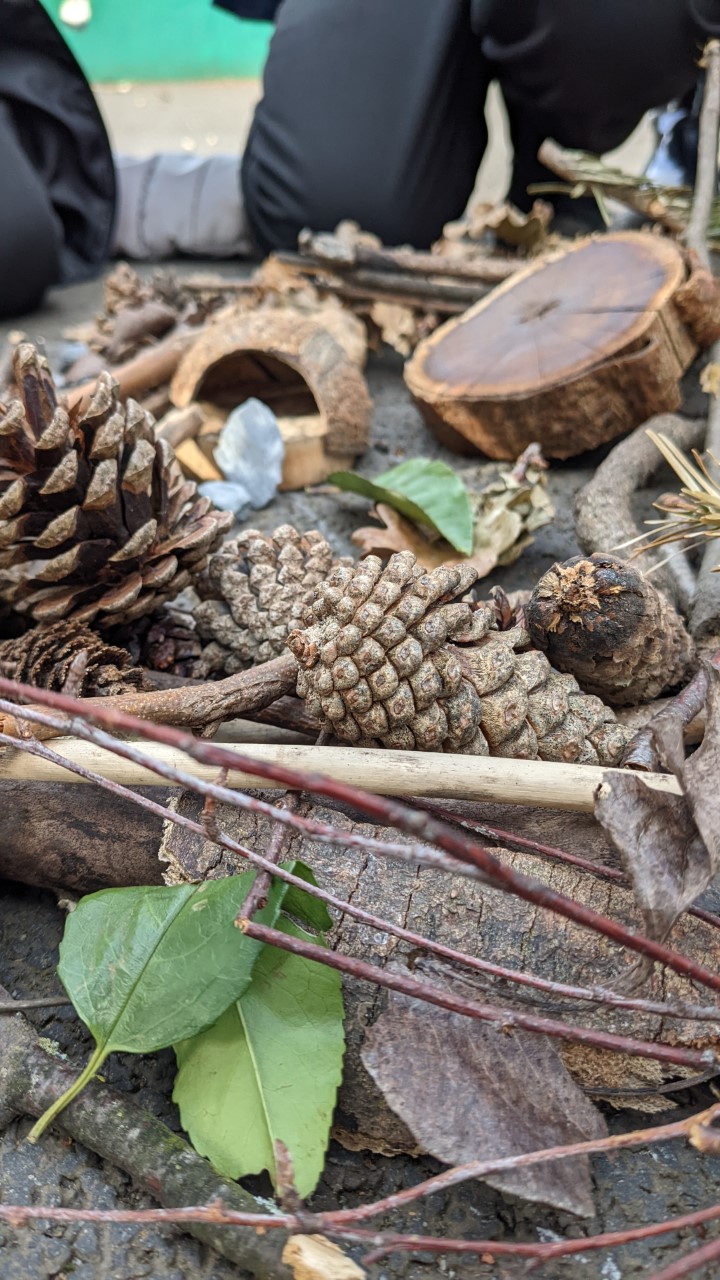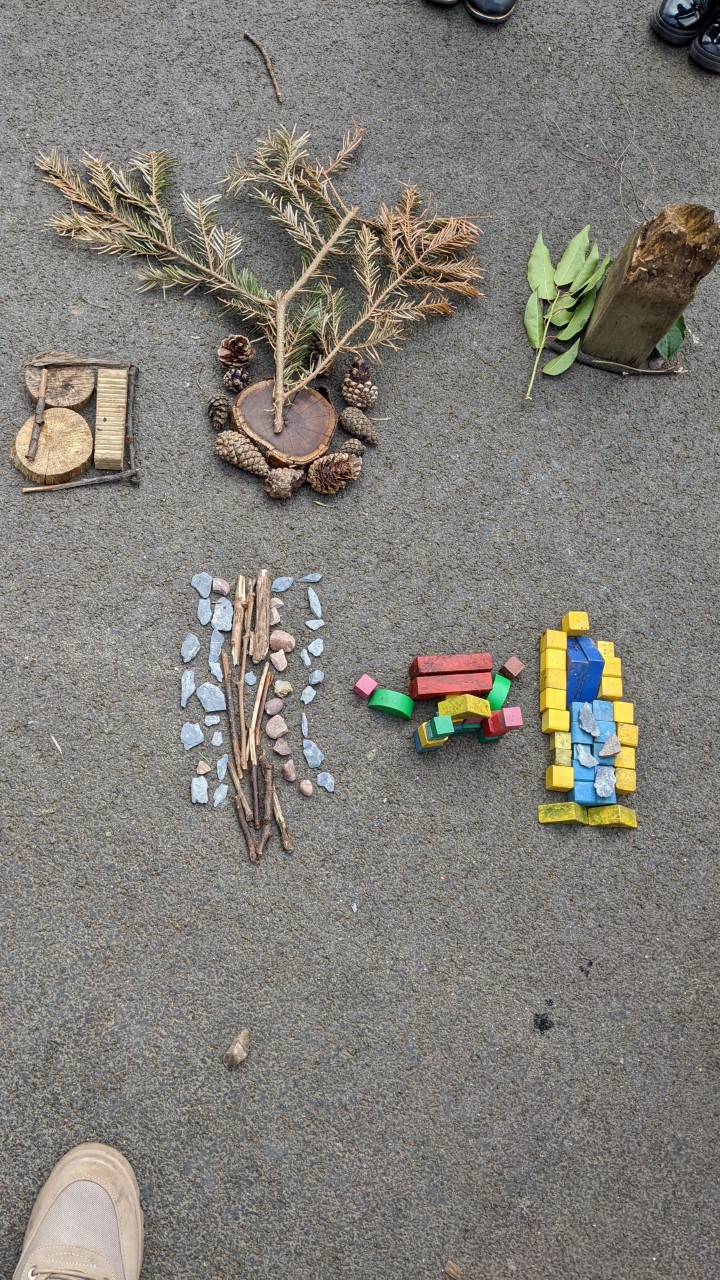 Robins have been using the fire-pit to experiment with how materials change. We made popcorn, and enjoyed watching it as it popped and danced in the sieves.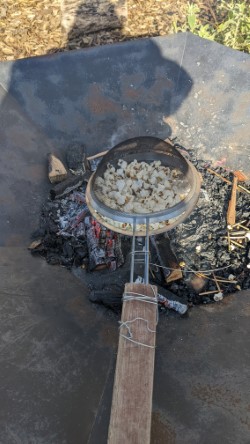 Puffins have been working on their team-building skills and created some amazing mazes involving trap doors, hidden keys and secret treasures.
Eagles have been working on Riddles. They have really enjoyed learning about riddles, hunting for the answers and creating their own nature riddles for each other to solve.
Thursday 24th February.
A busy week in Outdoor Learning. Puffins have both been working on their team-building challenges. Deciding on a set of desired rules for how they would like to be treated by their teams. We made these rules as transient art and had to guess what each rule was. Puffins also took part in the Water Transport challenge, and there was some good fun had, even if we had some chilly fingers.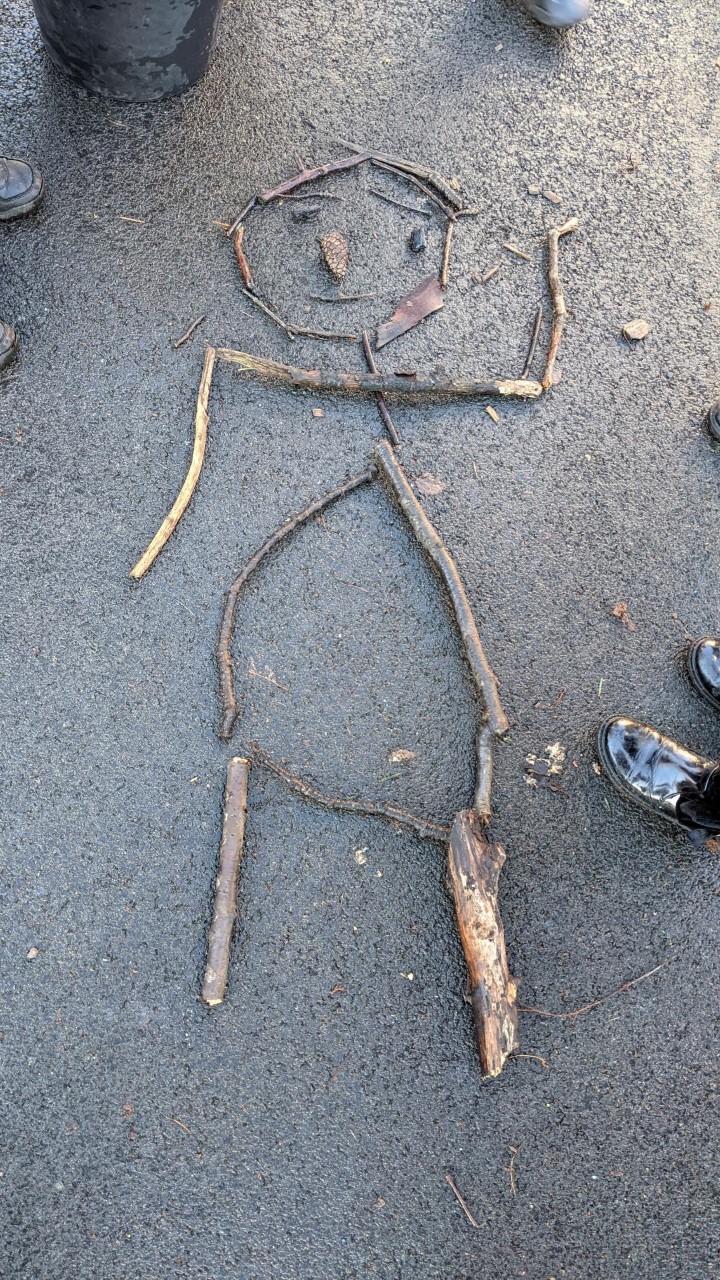 Eagles have been building mazes using natural resources, and guiding each other through using positional language (while keeping their eyes shut).
We have also completed the RSPB's Big School Bird Watch and submitted our data to the BBC. All the children have loved watching the birds, counting them, recalling names and bird facts.
Today was very rainy, so Eagles had a science lesson outside, looking at how different materials would change in the water.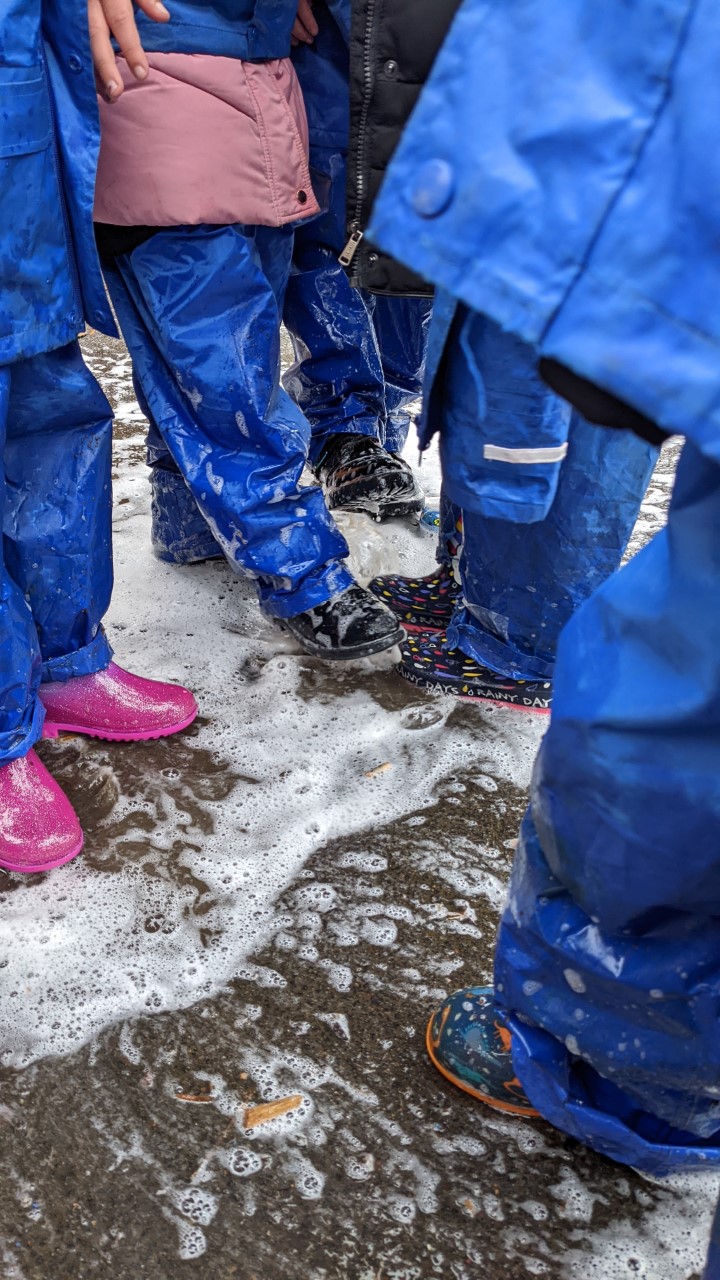 Thursday 10th February.
Outdoor Learning transformed into a Dinosaur Park for Robins, and we made and decorated Dinosaur eggs and nests in flowerpots. We used only natural colours and dyes that the children self sourced in the Outdoor Classroom. We had lots of fun trying to guess what our dinosaurs may be, and had a dinosaur stomp or two!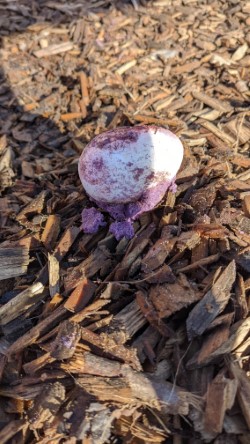 Thursday 3rd February.
There was no Outdoor Learning this week for Puffins and Eagles as I was covering in Reception. However, we ceased the moment in Robins and took our Maths, Literacy and Phonics lessons outside. We also spent some time outside celebrating Chinese New Year creating our very own walking dragons, playing musical instruments and played some team building games that linked to Chinese New Year. We also completed the RSPB's birdwatch in our Friday Outdoor Learning session, learning bird names, using our maths skills to count and spending some time using the binoculars.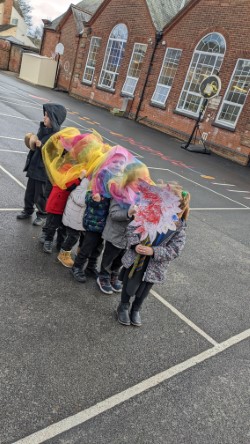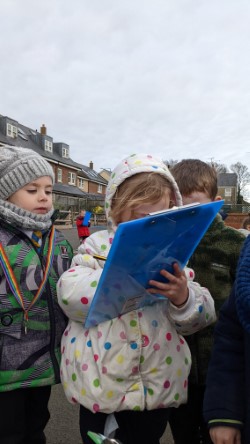 Thursday 27th January.
This week Robins, Puffins and Eagles have been preparing for the RSPB's Big School Bird Watch. Each class have been making different kinds of bird feeders and placing them around the school grounds. We have also had a visit from the Lynn News to take our picture for a feature spread. Even Year 3 and 4 have joined in the bird feeder making fun in their playtimes. We have used wire and wire cutters, corers and metal hole makers for our bird feeders.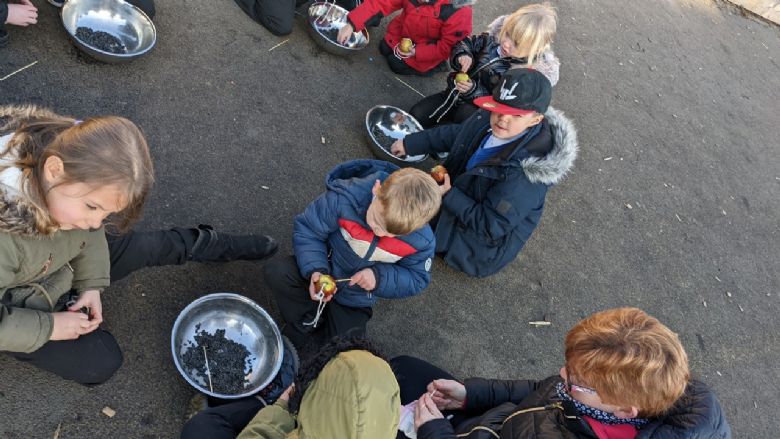 Year 2 have also continued with their team building challenges, making mazes on the playground and directing each other through the mazes with instructions, while the rest of the team had their eyes closed.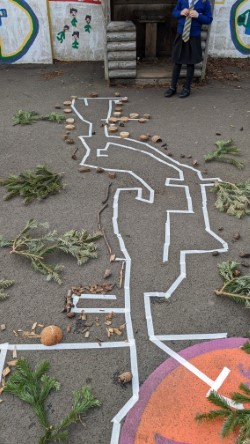 Thursday 20th January.
It is safe to say it's been a chilly one this week! However, that has not stopped anyone from having fun and enjoying their outdoor learning.
Friday saw Reception in small groups enjoying the firepit to toast marshmallows, make smores, and attempt to make campfire popcorn in our big pot. We spent some time talking about fire safety and the firepit rules. We also discussed how the popcorn kernels might change in the pot (they didn't) and how we could do it differently next time!
Year 2 have been working on their Team-Building skills, working in small groups/large groups to pass the hula-hoops, give positive team affirmations and played some nurture games. The main lesson involved working as a team to transport water from one area to another, using only natural objects. Some found sticks to not be the best water carrier, some used pine cones, coconut shells etc....some found that a branch of a tree was the most successful for them.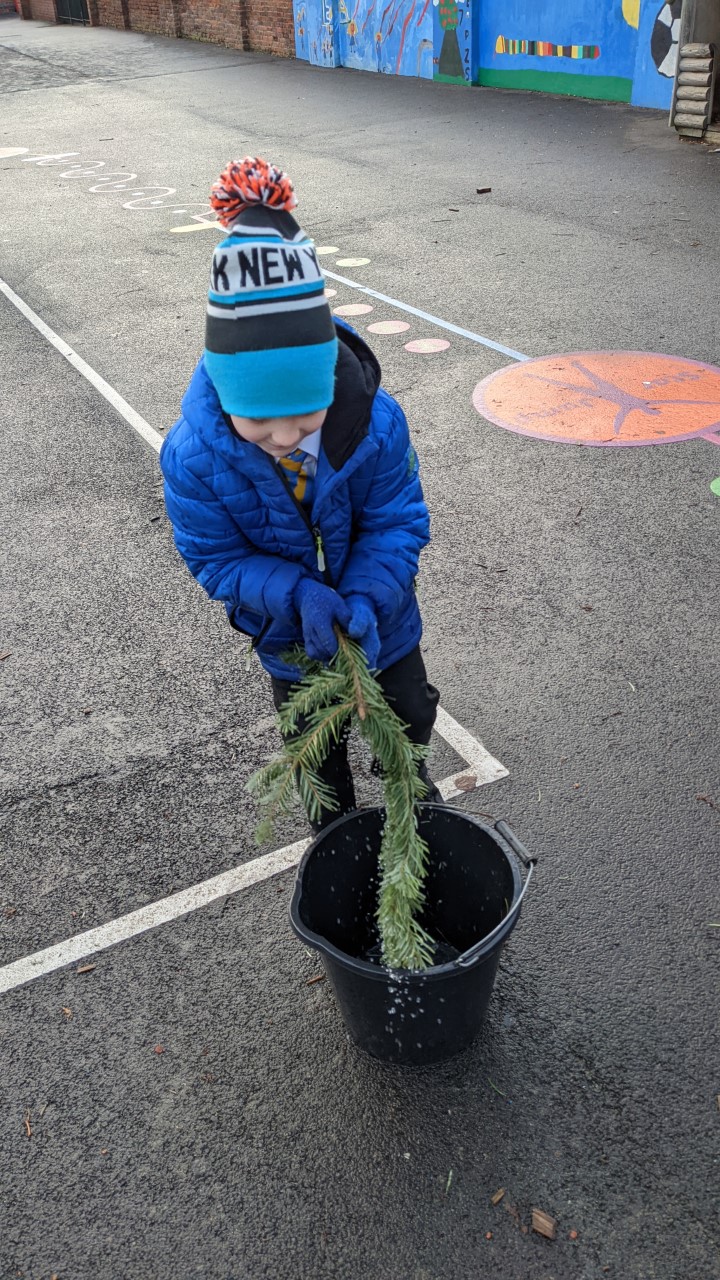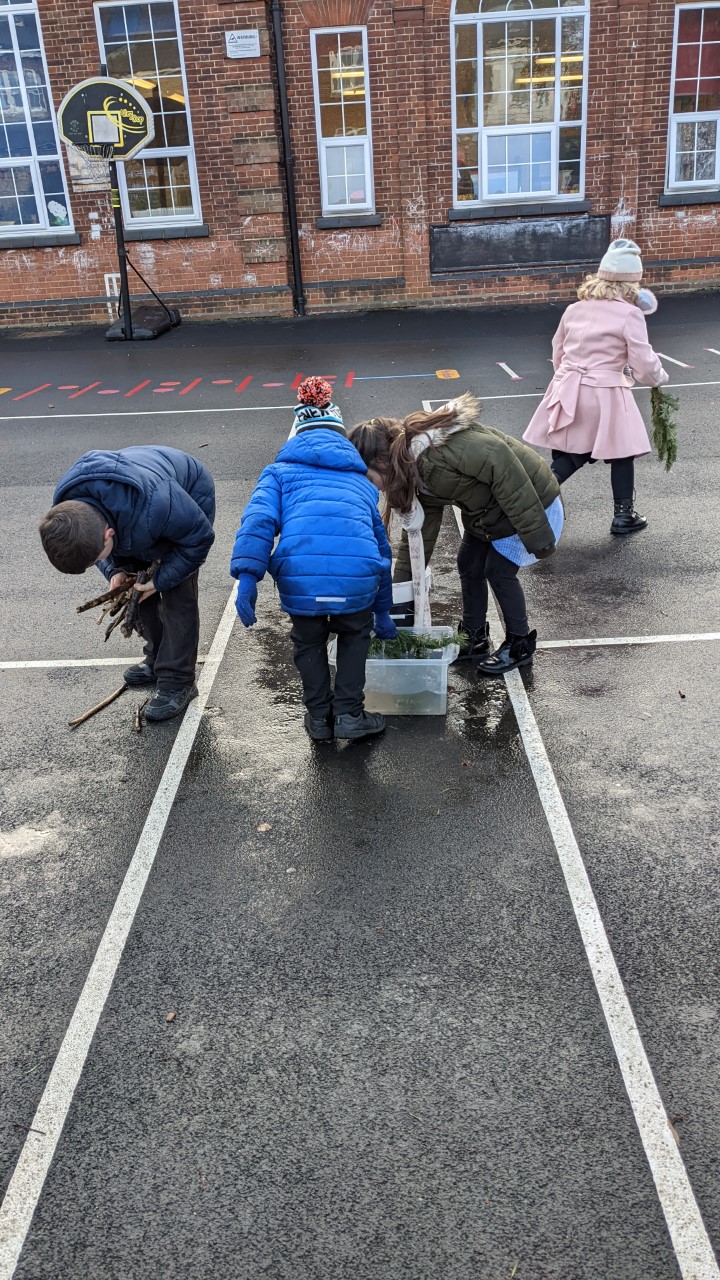 Year 1 got the frosty day! We turned into Snow Scientists and Eastgate Environmentalists. We spent some time trying to freeze bubbles throughout different areas of the field. We also discovered that Mr Callaby's football net makes awesome, huge bubbles!
We spent some time playing listening games such as "3 before me" and "Snowstorms and Snowflakes". Year 1 also began a litter pick throughout the school ground and school field. We spent time talking about recycling and how damaging litter is for our environment and the natural environment.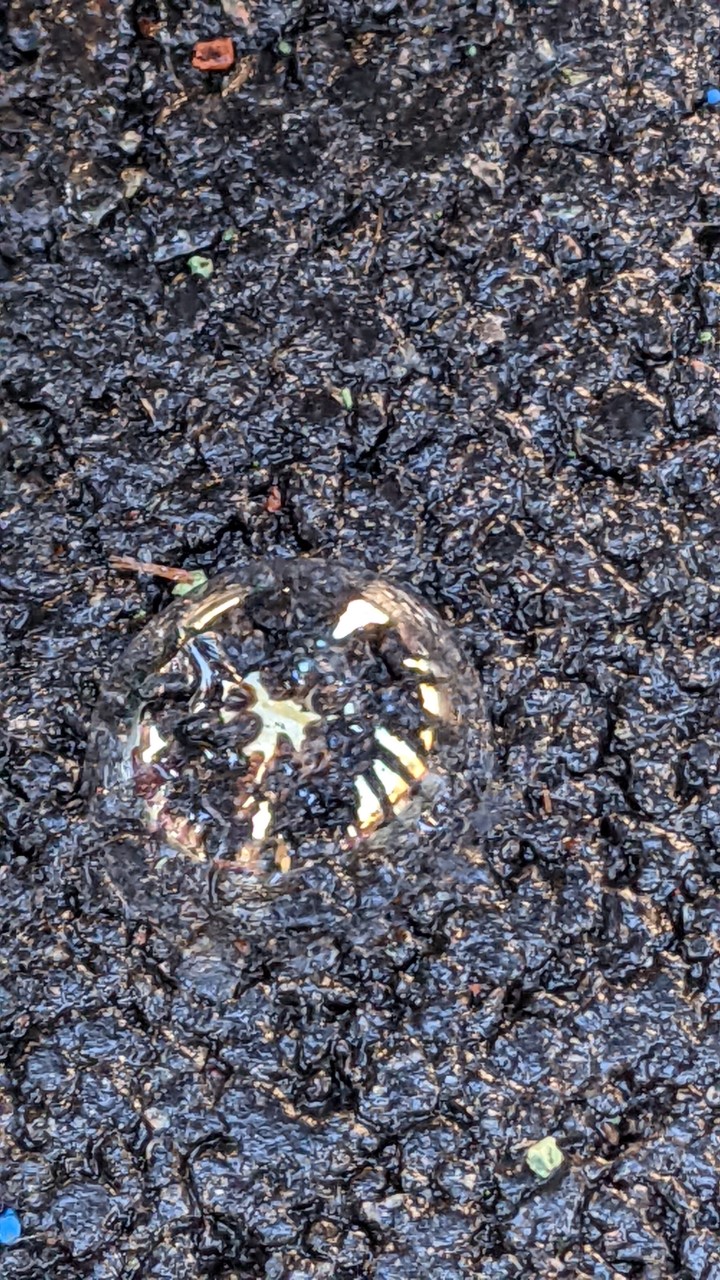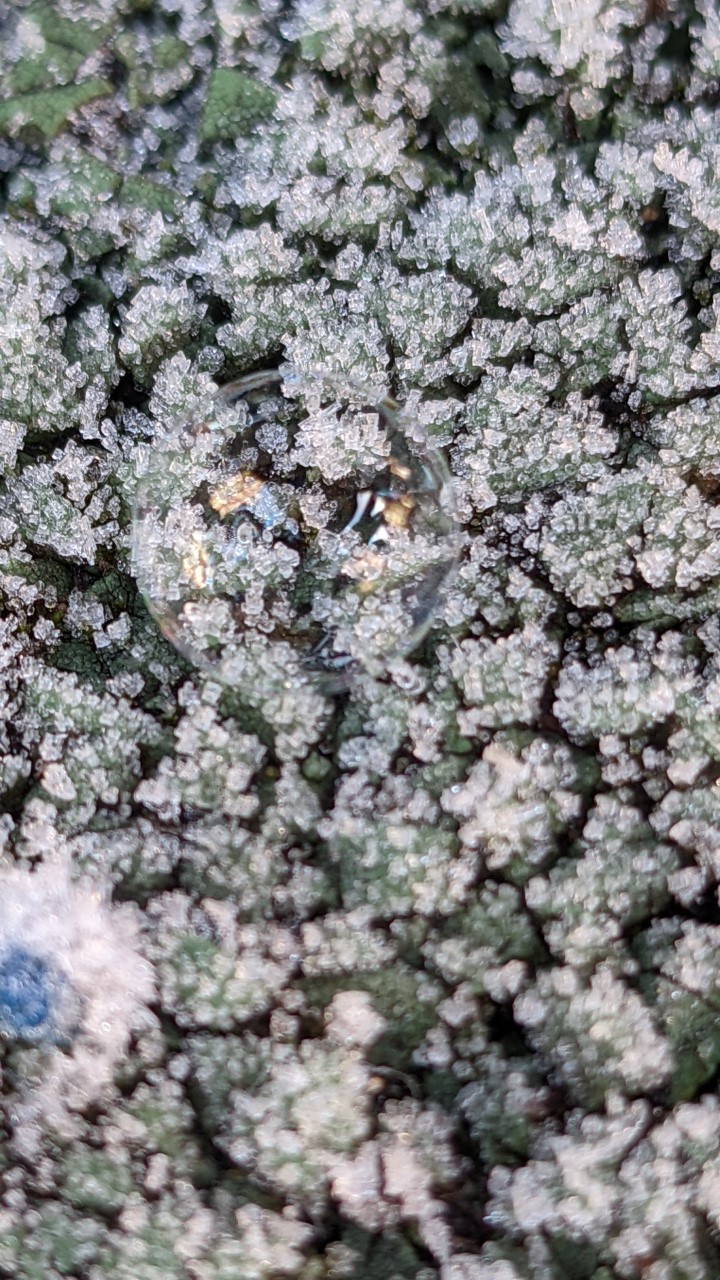 Please can all children have a hat, gloves and a scarf. Boots/Wellies if possible. I do have access to a few spares if needed. Please feel free to come and speak to me if needed. Any donations gratefully received also :-) Miss Snow.
Eagles (Yr2) Monday, Wednesday and Thursday.
Puffins (Yr1) Tuesdays
Robins (YR) Friday for Outdoor Learning, everyday Continuous Provision.
Thursday 13th January.
We have certainly kick-started the New Year with some amazing projects in Outdoor Learning.
Reception have been using safety equipment and small saws to cut up some old Christmas trees. These pieces are being used in the Outdoor classroom for transient art, mud painting and potion making in the temporary mud kitchen area.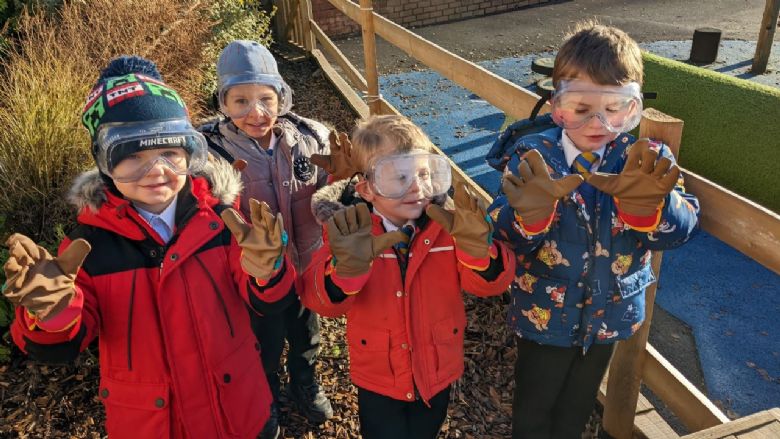 | | |
| --- | --- |
| On Tuesday 11th January, Year 1 began working on some bird feeders for the RSPB Big Bird Watch. We used wire and wire cutters, threading popcorn and fruit remnants onto it to hang from the trees. We were also visited by the Lynn News and will have a two-page spread on Friday 14th Jan. We have begun to increase our knowledge of bird names and have been discussing what we may see in our school grounds. | |
| | Year 2 have been working on their team building skills whilst enjoying the winter sun. The children have worked in small groups to make some rules for working in our teams. We then translated those rules into transient art, taking turns to guess which each picture represented. We have finished each session with a circle of positive affirmations. |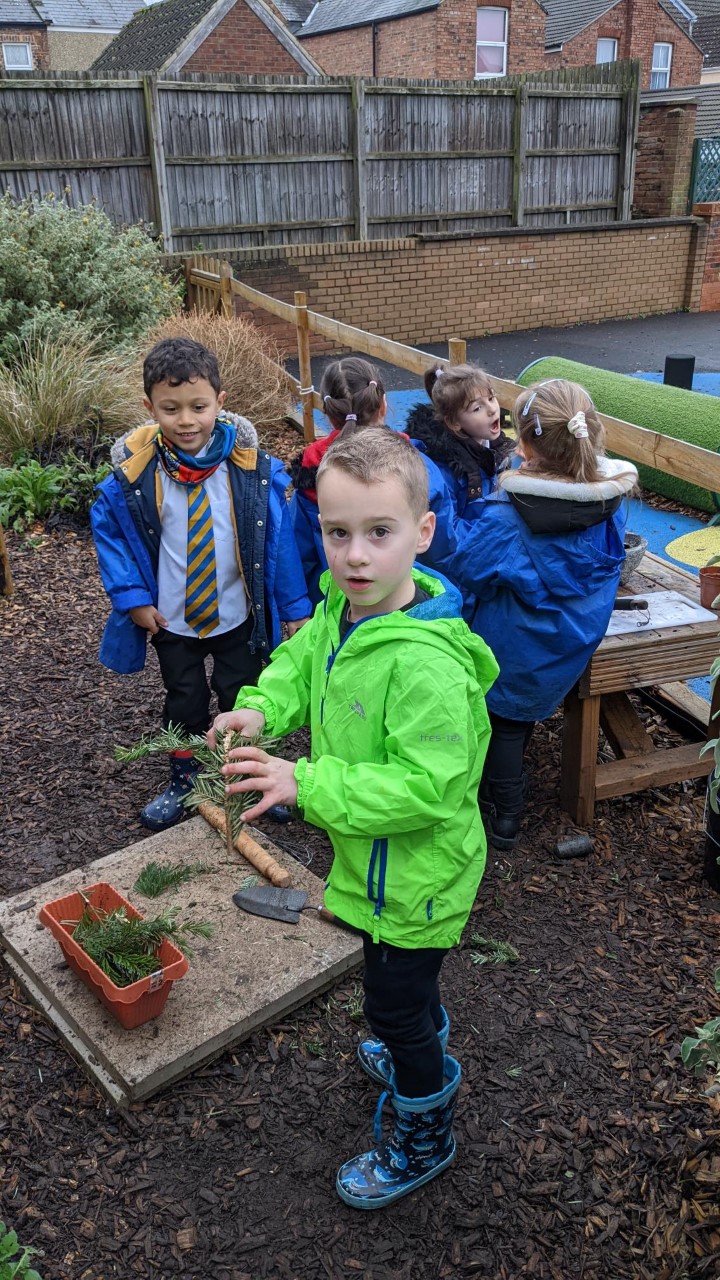 Monday 22nd November
Christmas has started in Outdoor Learning this week! We have all been making snowflakes and stars from sticks and wool, using our weaving skills to create some beautiful outdoor decorations. The children have really enjoyed using their maths knowledge to find sticks of a suitable length and diameter, they have all shown a lot of patience and determination with their work. We have thoroughly enjoyed practising our nativity and carol concert songs too out in the winter sun.
We have also been creating Christmas Trees with chalk, and then decorating them with natural materials found in the Outdoor Learning Classroom. Some were so big they looked like the Rockefeller Tree in New York.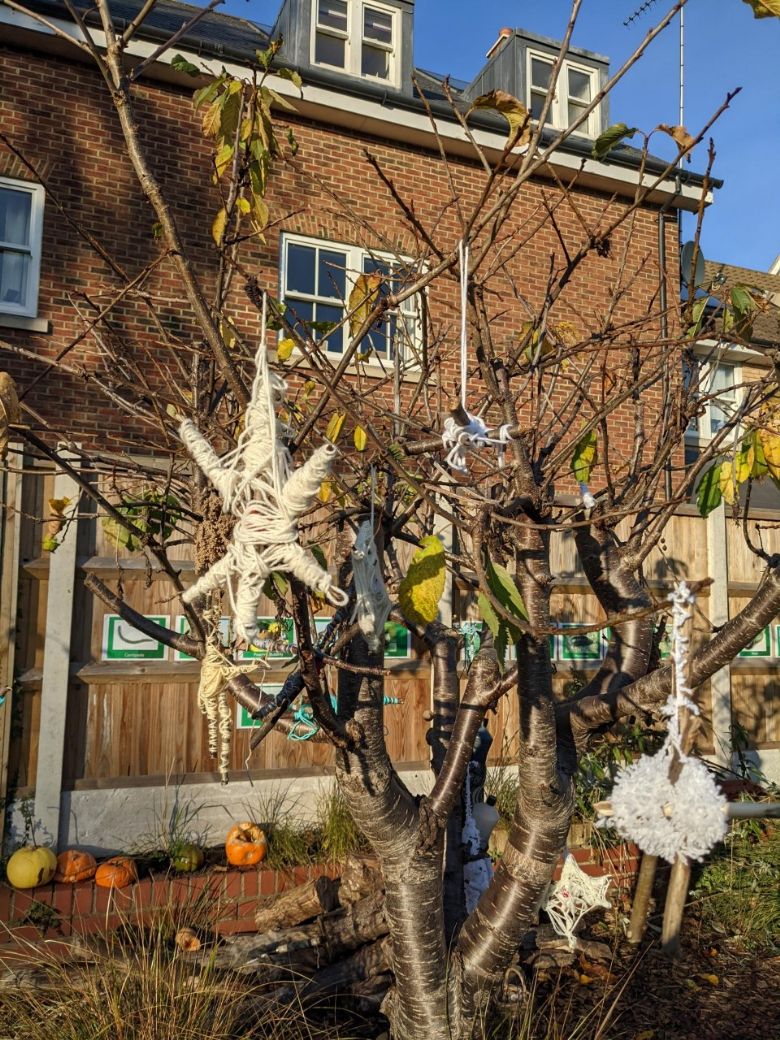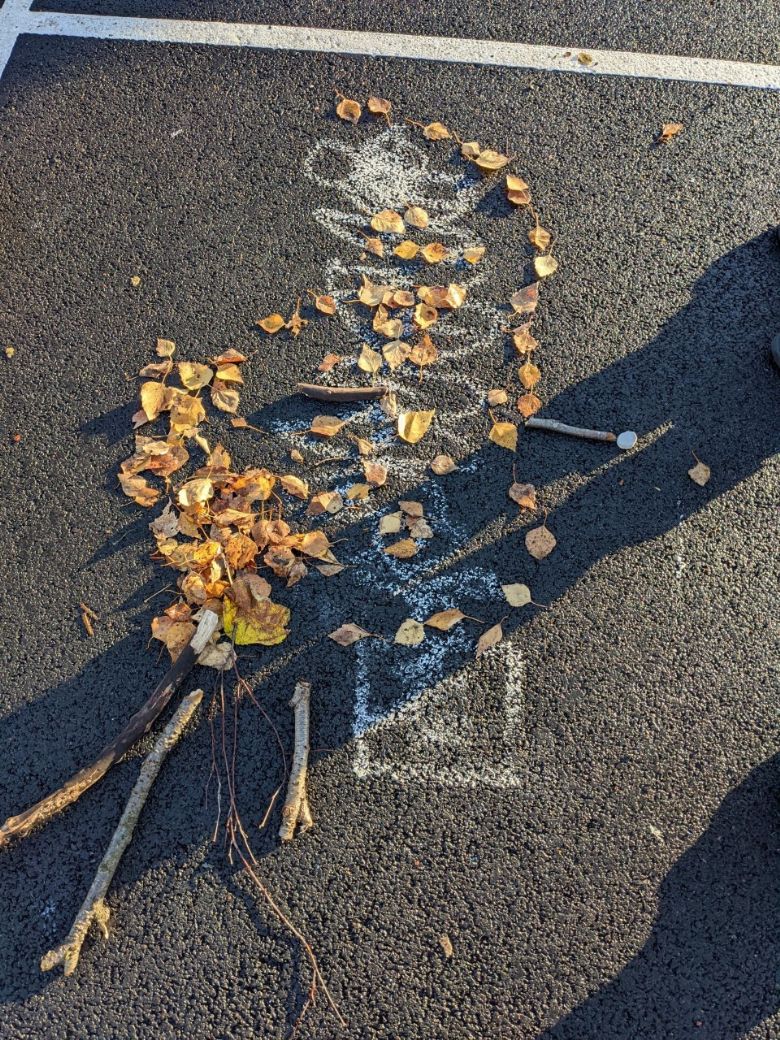 15th November.
This week Year 2 have been on a literacy scavenger hunt. Each letter of the alphabet had to be found in nature and our surroundings. We even managed to find Z in the quad, when we discovered the Zebra Finches. The children loved having a clipboard and being able to move freely with their writing. We investigated the bug hotels looking for different creatures to help fill the letters, spent some time in the vegetable garden and looked at the pond. The children discovered different types of fungi on the field, and we spent time identifying them and talking about how not all mushrooms are edible.
In each lesson this week Year 2 and Year 1 have talked about habitats. We have searched the school grounds and surrounding trees for nests - finding a wonderful nest in the school bell -and spent some time making our very own nest from scavenged sticks, leaves and feathers, hunting out pinecones and conkers as eggs.
Year 1 and Reception have also been practising their Road Safety, ready for our walk to the pantomime, met Doris the Lollipop Lady (aka Miss Snow) and have used Mr Callaby's Playground Traffic System to learn safe walking and biking/scooting!
On Friday, Reception took a trip to The Walks for their Outdoor Learnin. We had the best time collecting sticks ready to make our Christmas Decorations, kicked through the leaves, saw squirrels, collected leaves and learnt a little Local History as we followed the path through The Walks back to school.
8th November.
This week we have been investigating the sky and learning about the different types of clouds. We have talked about the sky, the different colours that can be seen, types of birds. Year 2 have enjoyed talking about the different things they can see in the sky. They have also been learning about the different cloud names, using identifiers and using their maths skills to work out the different heights of clouds.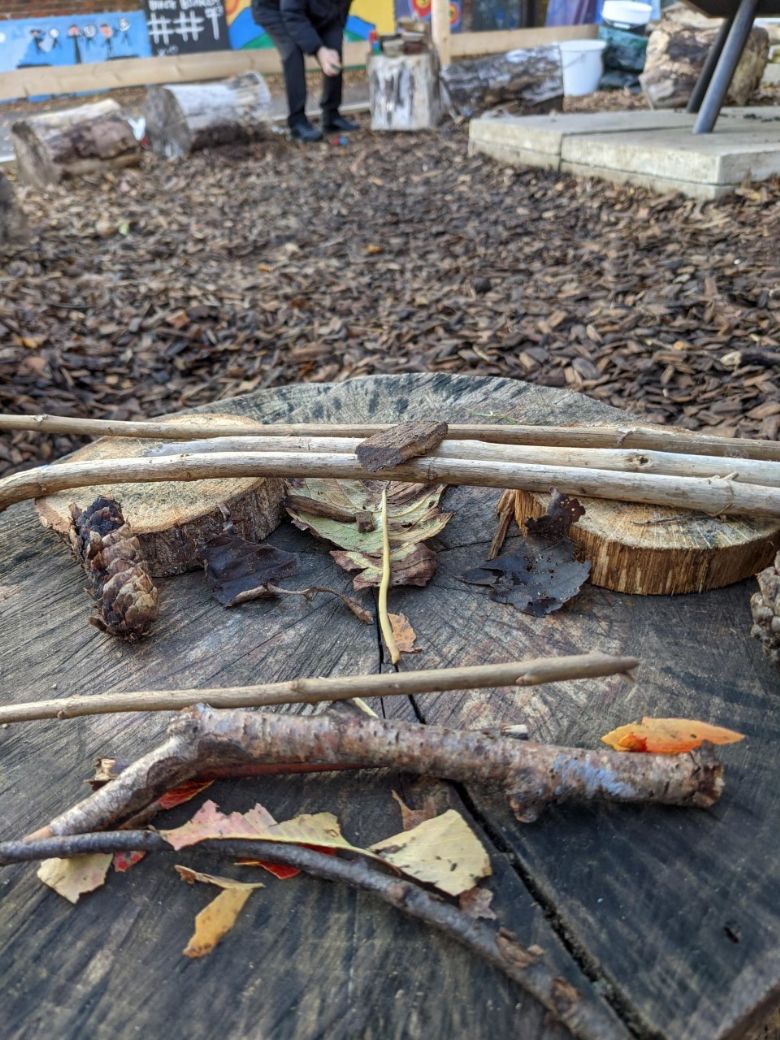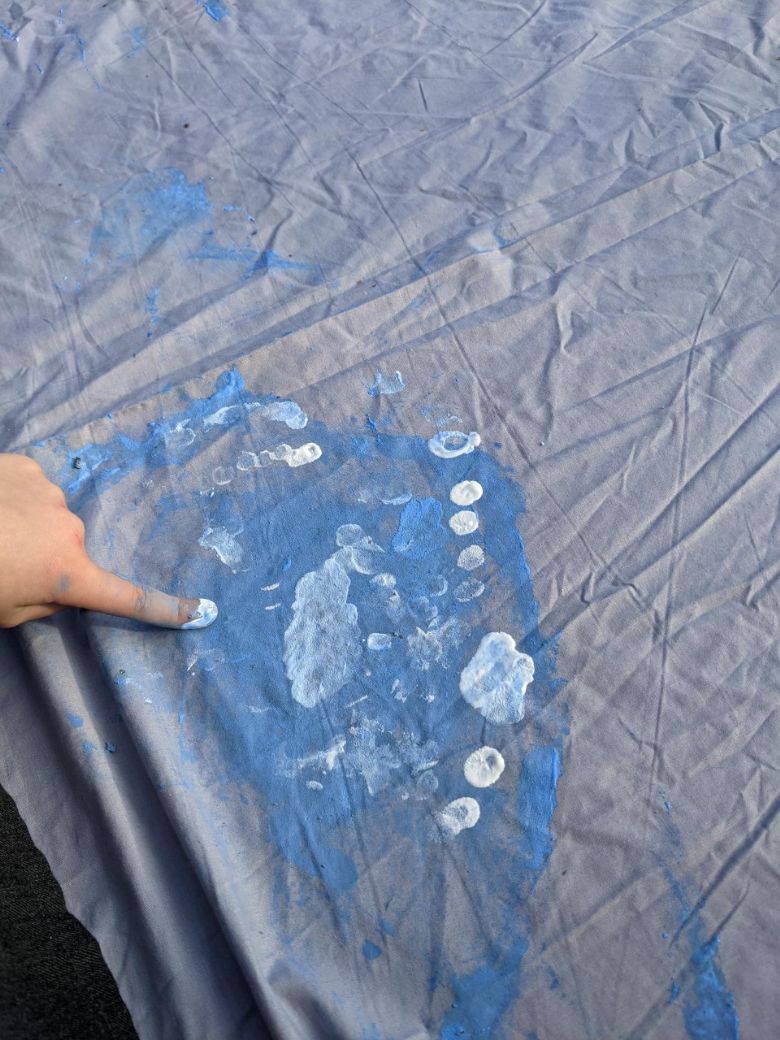 Year 1 and Reception spent some time cloud gazing and looking for different shapes and animals in the clouds themselves. We have seen Geese migrating, lots of Herring Gulls, Magpies, Pigeons and lots of small birds too. The children loved using the binoculars to make things bigger and easier to spot if far away. We then made some mini dens using the natural things found in the Outdoor Learning Classroom.
Each lesson saw a piece of jumbo art being created by the children on sheets as they replicated the sky and the clouds, only being given paint in white and blue. We talked about mixing to get lighter and darker colours, and added in some mud to the paint for rain clouds.
On Thursday 11th November, we used sticks and wool to weave our own poppies for Armistice Day. There was even time to create some full size dens, using pumpkins and logs.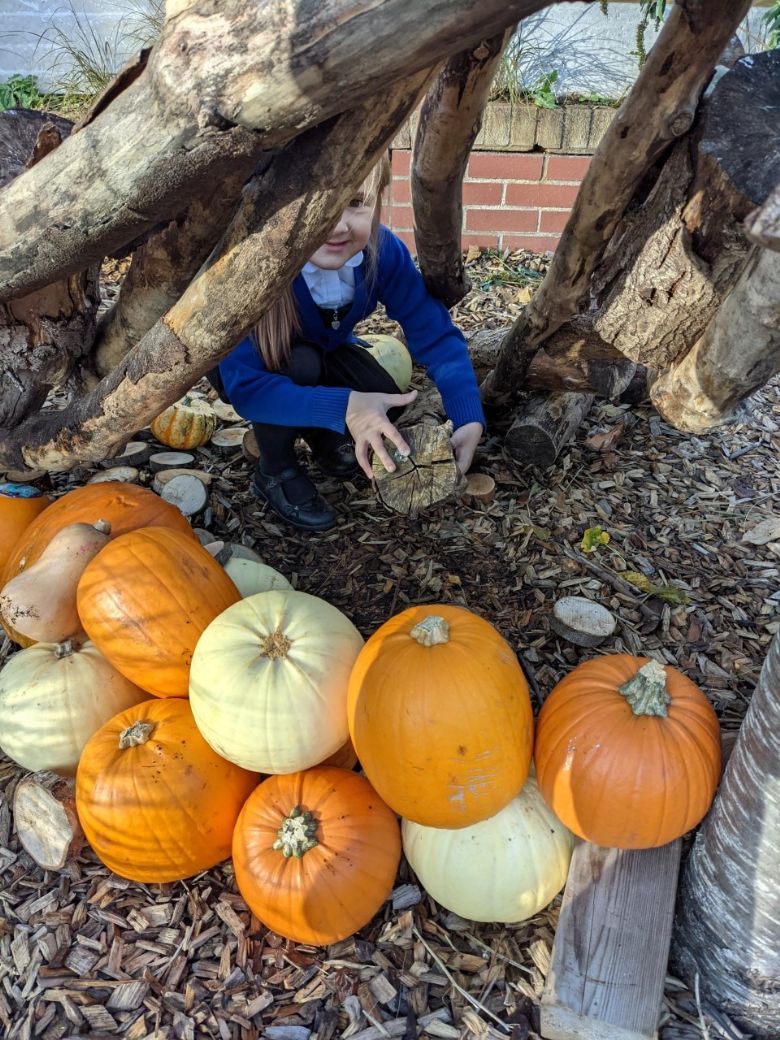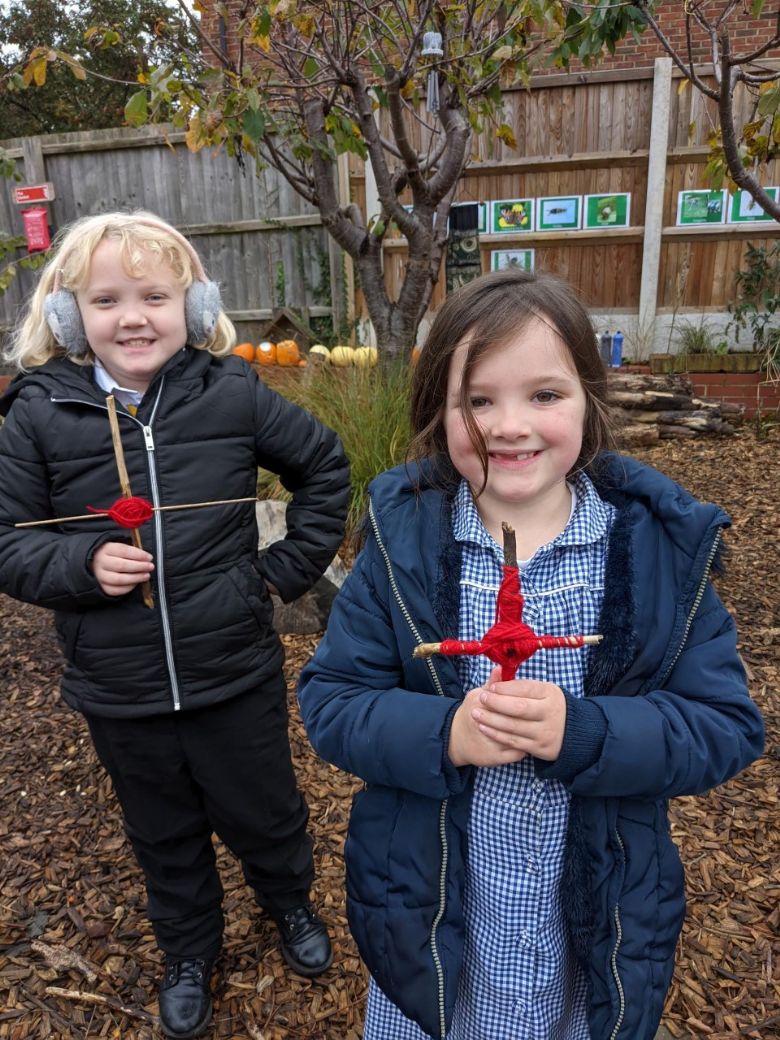 1st November.
Wow! What a week in the Outdoors Classroom.
We have celebrated Day of the Dead by gathering together lots of natural resources to make stick skeletons, we talked about bones and body structure. We read stories about Day of the Dead, made Papel Picado, talked about Celebrations and our loved ones.
Thursday 4th was Global Outdoor Classroom Day, we had the most amazing time bringing our learning outside across EYFS, KS1 and LKS2. I joined UKS2 for PE (Tag Rugby) and had the opportunity to reflect upon their playtimes. Reception made self-watering flower pots with cress to grow and harvest. Year 1 took their maths outside, using chalk to write their numbers in order to the highest they knew. Year 2 got the rainy part of the day, and we went on a rainy day scavenger hunt, finding objects that floated and sunk in a super sized puddle.
Friday 5th was Bonfire Night. We shared the story of Sparks in the Sky and made conker comets, decorating them with sparkly ribbons and colourful materials. We practised our throwing and aiming skills, used our fine and gross motor skills and had lots of fun in the playground.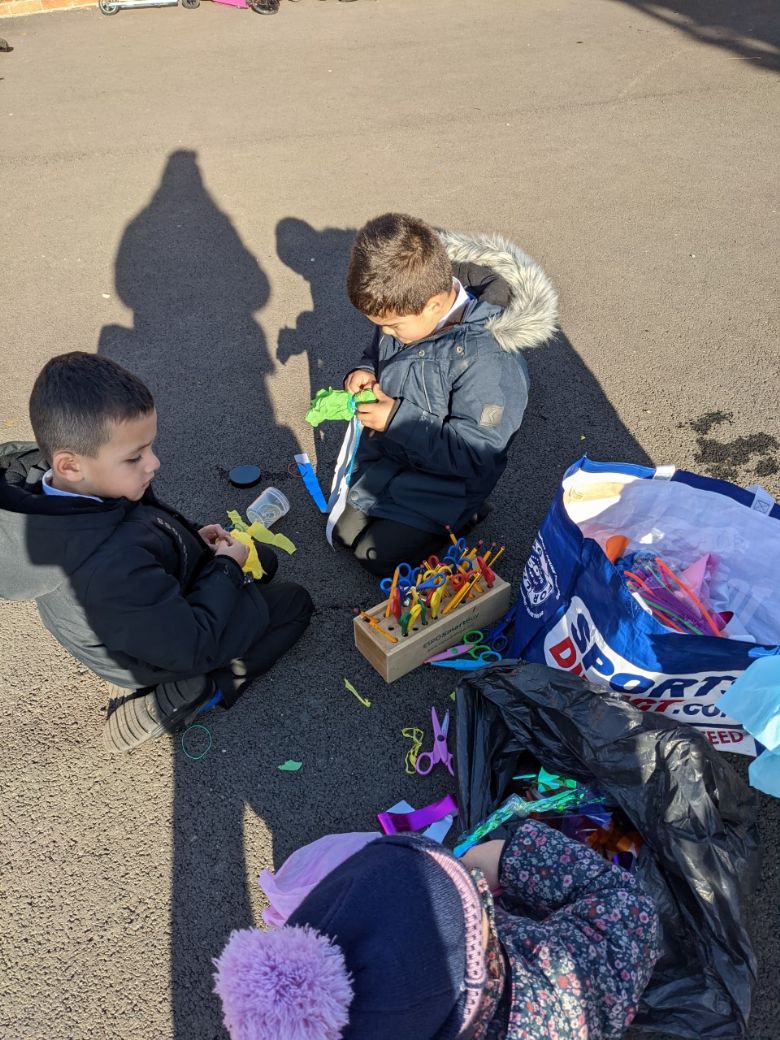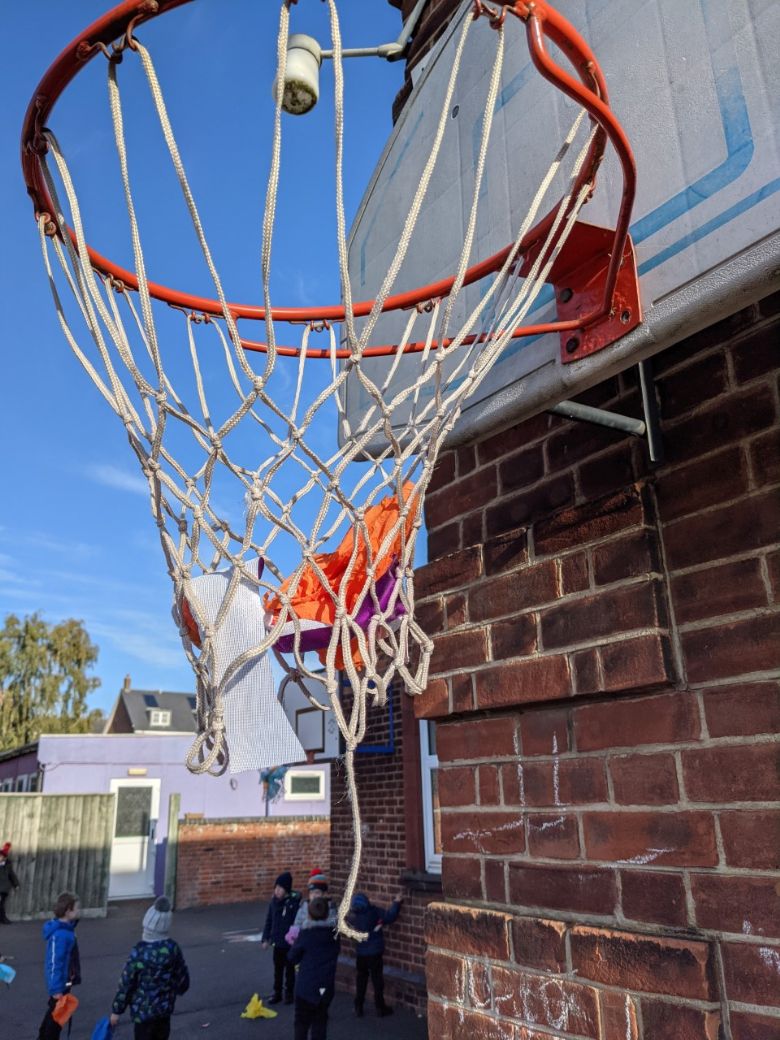 11th October 2021
We have had another couple of fabulous weeks outside. The weather has been changeable from one moment to the next, leading us to some brilliant investigations.
Each class has been on a bug hunt. We have found many insects, including some remarkable finds on the field of various types of ladybirds and Asian lady beetles.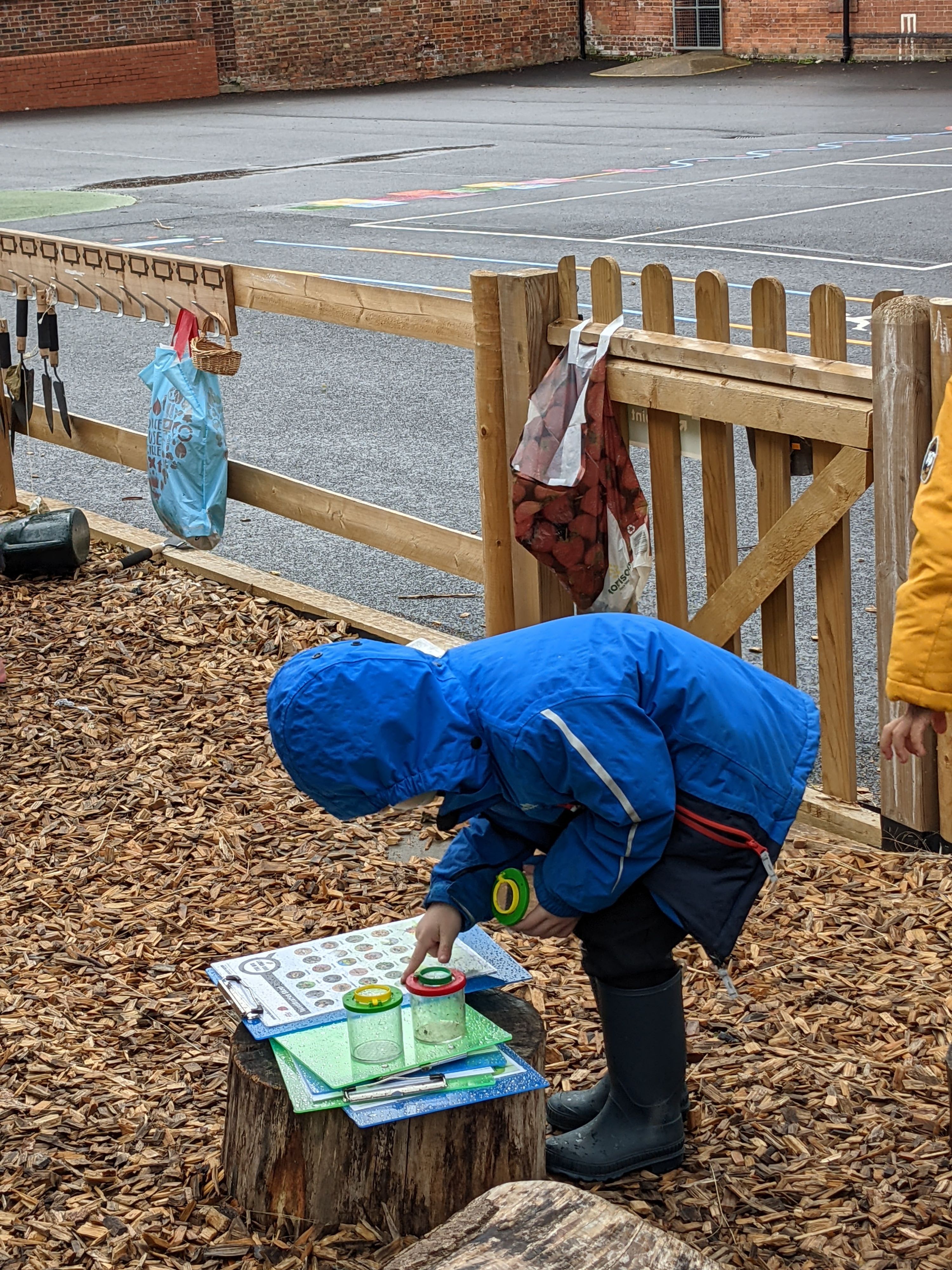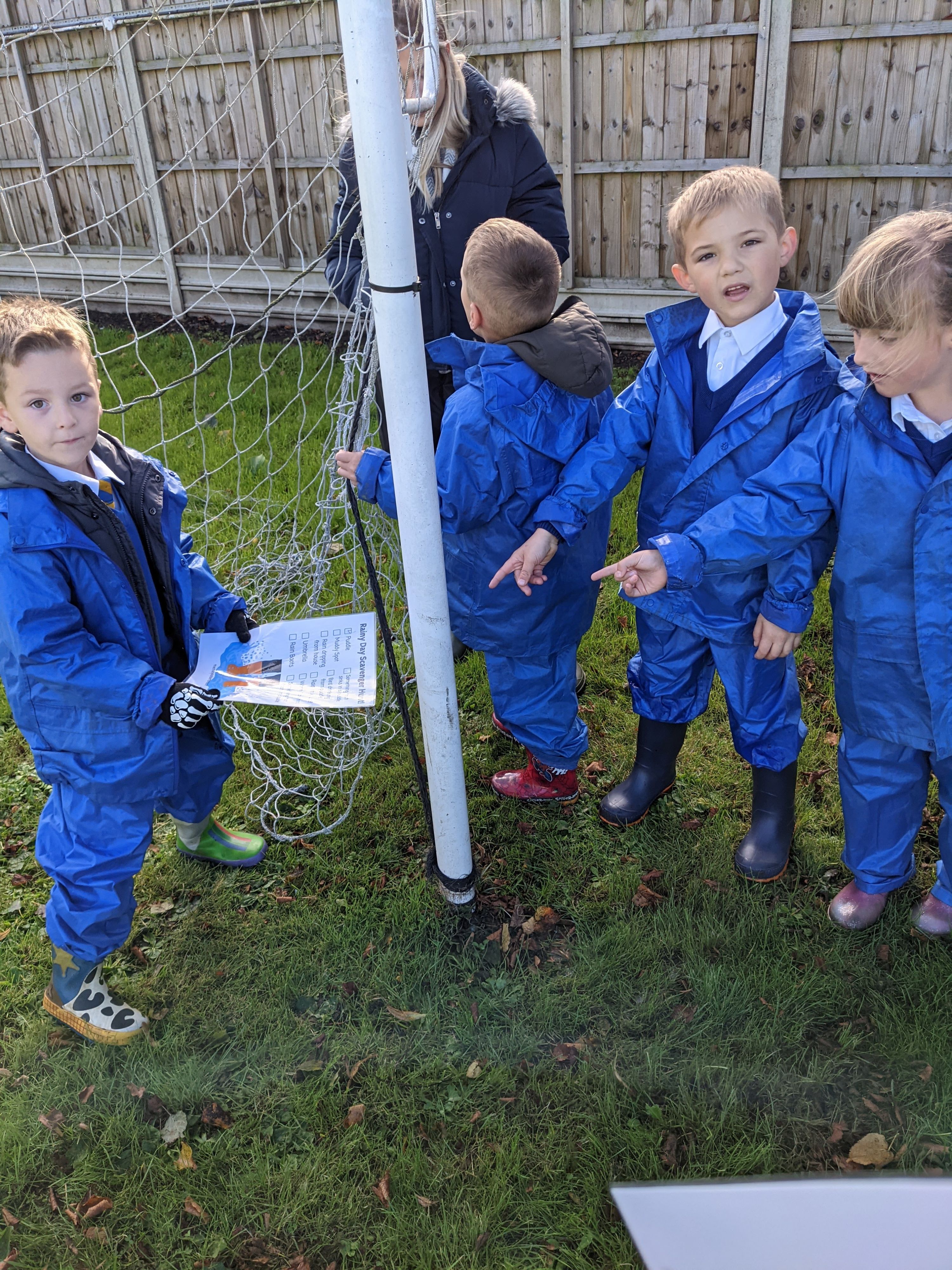 We have experimented further with the wind in Year 2 (Eagles) and made our very own parachutes and had a go at launching them in the playground.
We all had lots of fun trying to work out what would make the best passenger.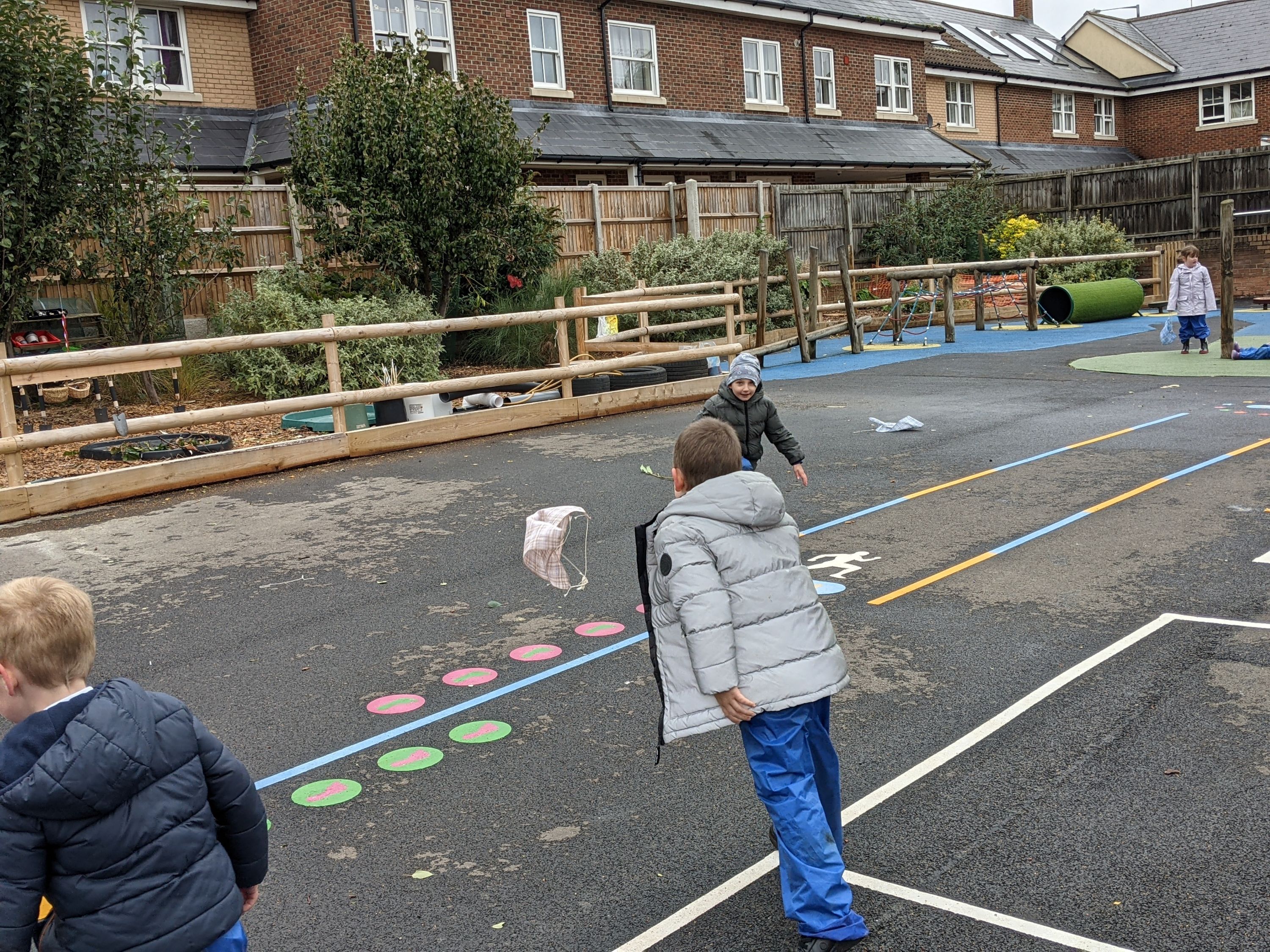 And following on from the Jolly Postman activities in Year 1, we made leaf crowns for Cinderella. We gathered lots of natural materials in buckets, looking at colour and texture as we went. Year 2 and Reception have also enjoyed making leaf crowns for King Rex as we have been reading "Where the Wild Things Are" for our Outdoor Learning story.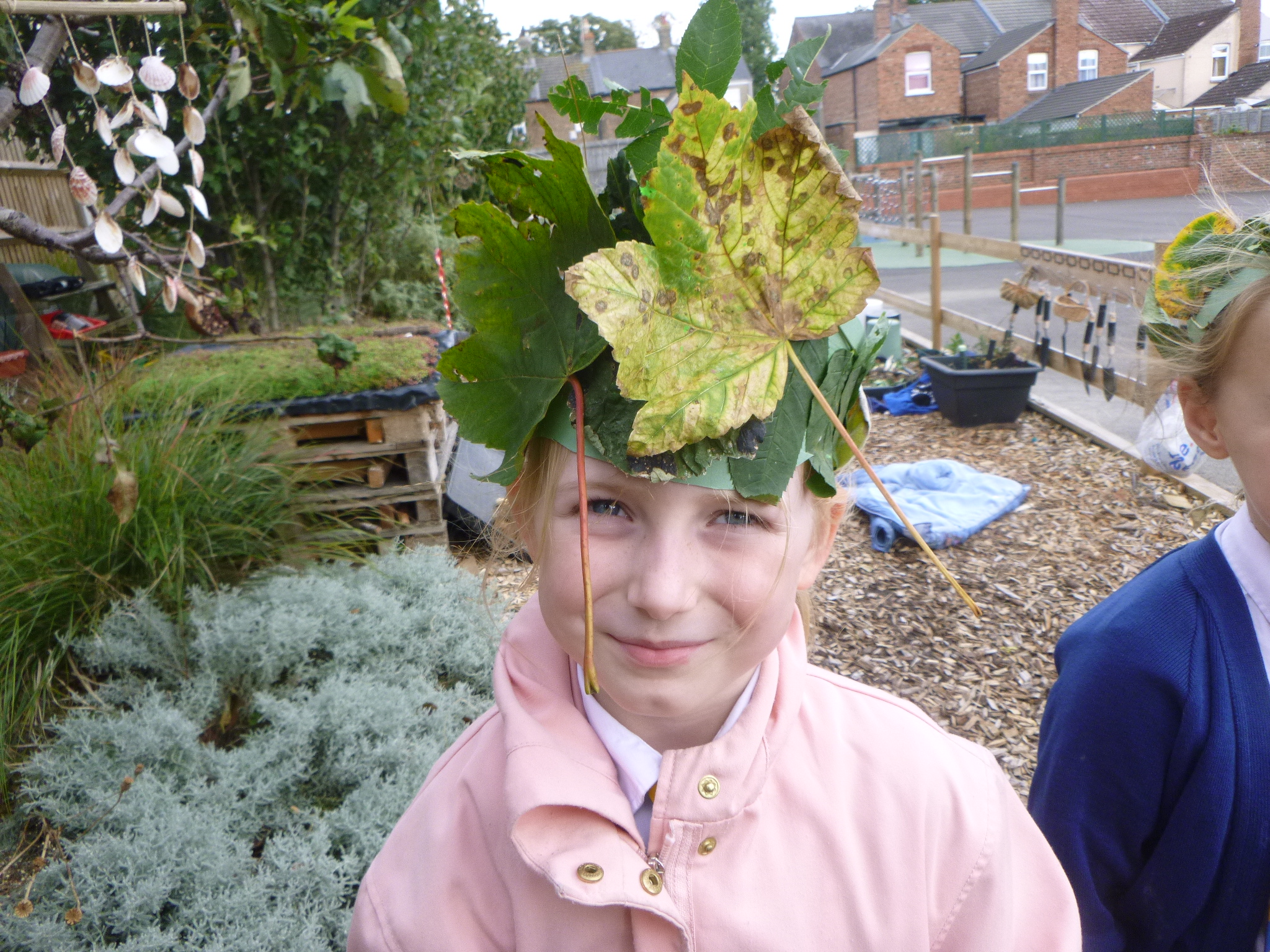 We have all also enjoyed some free time in Outdoor Learning, making more transient art, gathering poppy seeds from the dried seed heads, listened to and looked at various aircraft as they have passed overhead, learnt some bug songs, much digging and pretending to be Archaeologists - a child led activity following on from Year 1's learning in class.
It has been an exciting start to our new Outdoor Learning adventures!
Reception (Robins), Year 1 (Puffins) and Year 2 (Eagles) have all been hunting for signs of the new season: Autumn. We have gathered fallen leaves of many types and talked about why the leaves change and fall, eaten fruit from our fruit trees and planted the seeds, visited the school garden and sampled some of our school grown produce as well as smelling and experiencing some edible plants and herbs, alongside collecting sticks, pine cones and other Autumnal treasures to create some amazing pieces of transient art.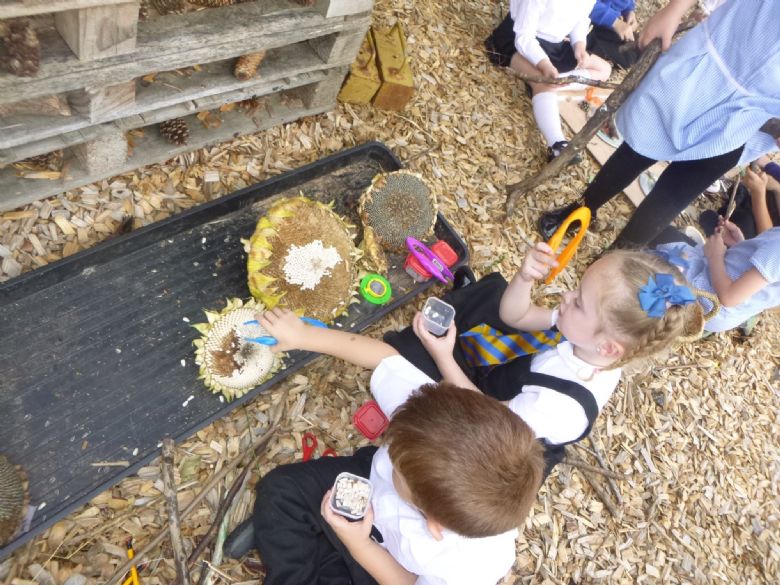 Reception have recreated their Power Reading Book "Going on a Bear Hunt" using the sensory grasses, trees, mud, a (hose created) river and a swirling snow storm - thanks to a white tarpaulin. They have also built dens and had a visit from a bear!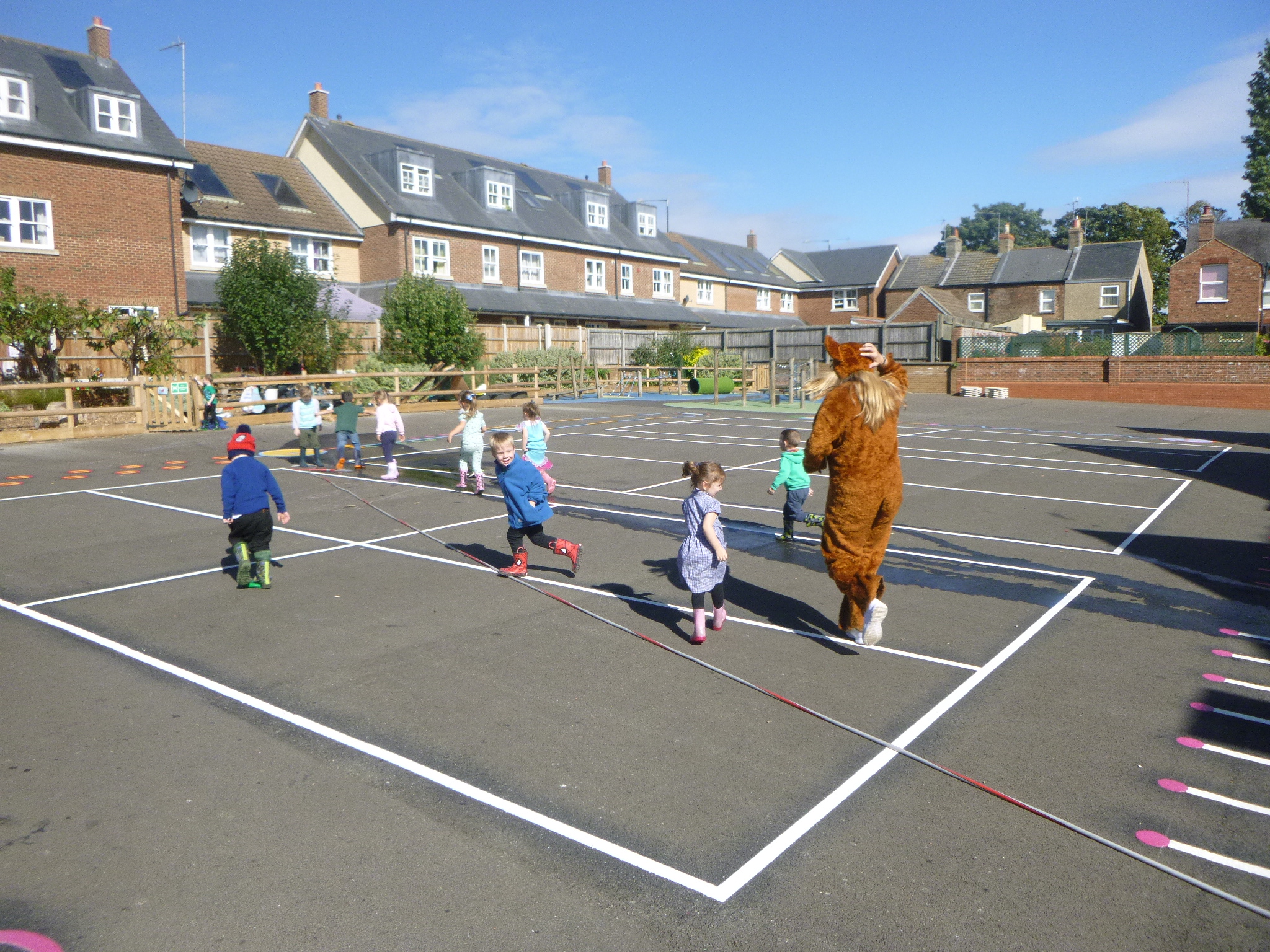 Year 1 have been investigating further into their Power Reading Book "The Jolly Postman" by gathering sticks of different length and size to recreate the Three Bears, using natural resources alongside wool, string and paper. As well as finding beans and seeds, linked to Jack and the Beanstalk, making bean art and planting a lot of seeds wildly in the outdoor classroom.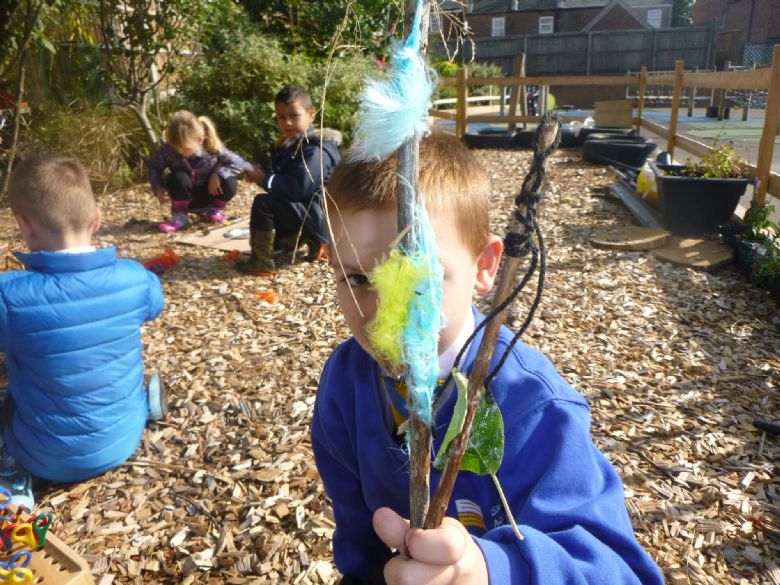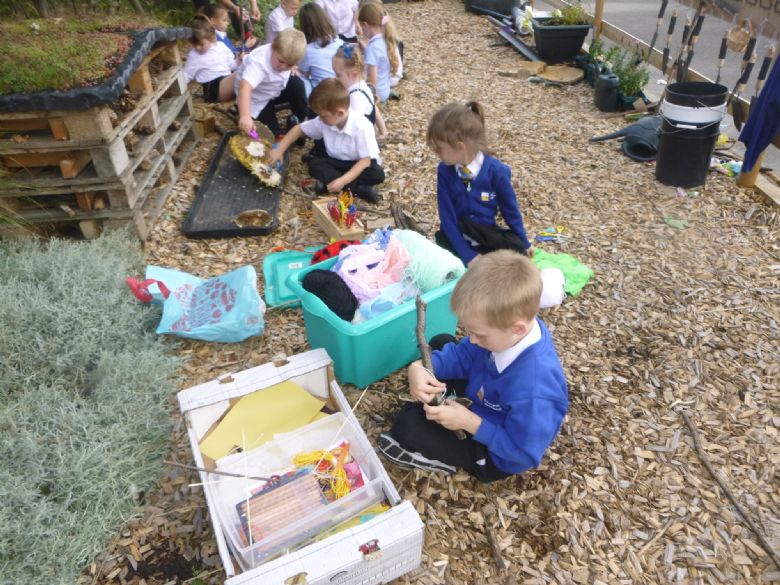 Year 2 have been experimenting with Moth designs, linked to their Power Reading Book "Moth" using ink, salt and pepper, to create amazing designs that are completely unique. As well as using the natural resources for rubbings that look like camouflage.
The weather has provided us all with the opportunity to be out in the rain investigating water, making chutes and slides, catching raindrops on our tongues and of course puddle jumping. While the wind has let us make leaf kites, natural wind streamers and practise our speed to see who is faster - us or the clouds!