Outdoor Learning.
11th October 2021
We have had another couple of fabulous weeks outside. The weather has been changeable from one moment to the next, leading us to some brilliant investigations.
Each class has been on a bug hunt. We have found many insects, including some remarkable finds on the field of various types of ladybirds and Asian lady beetles.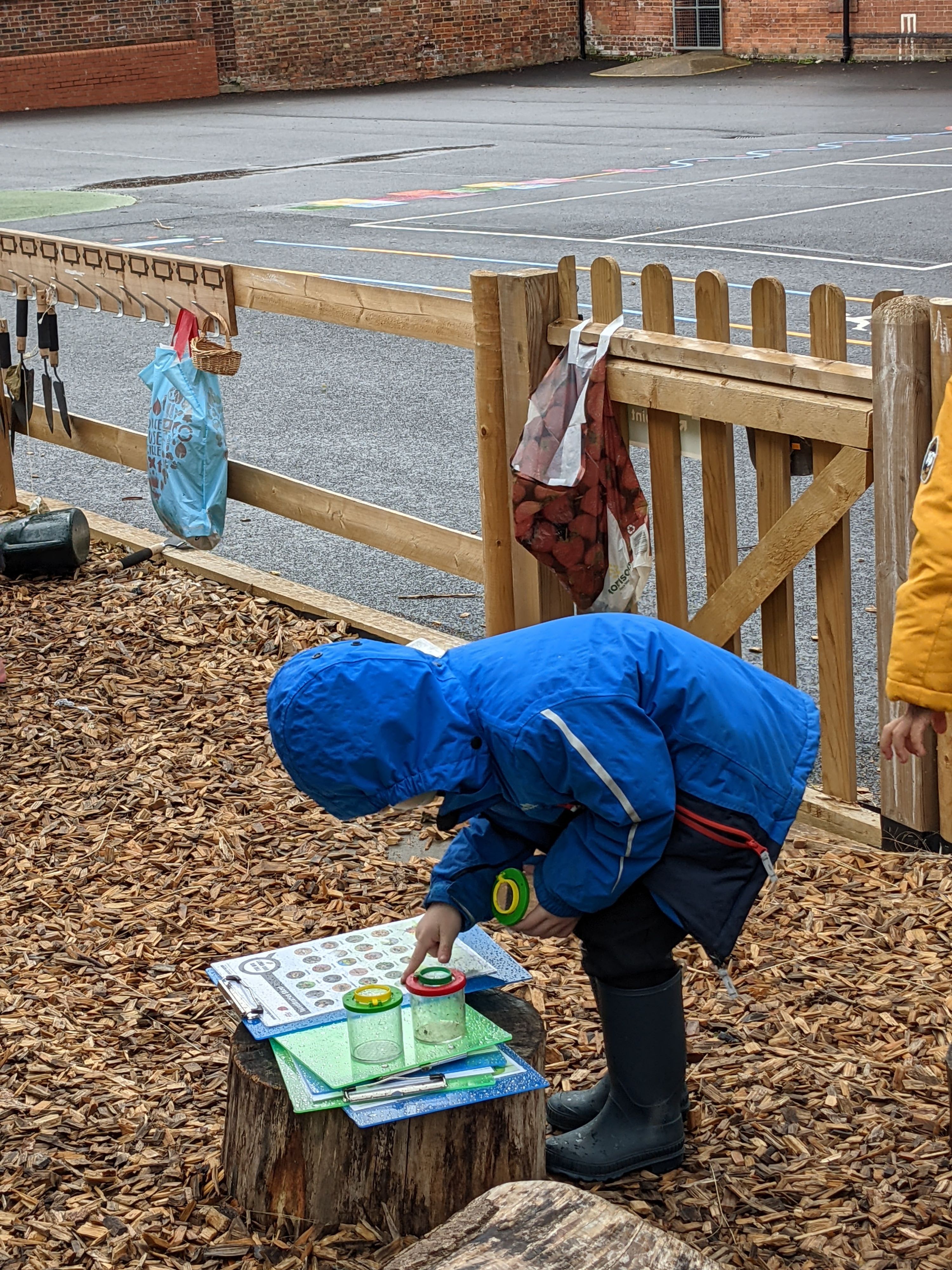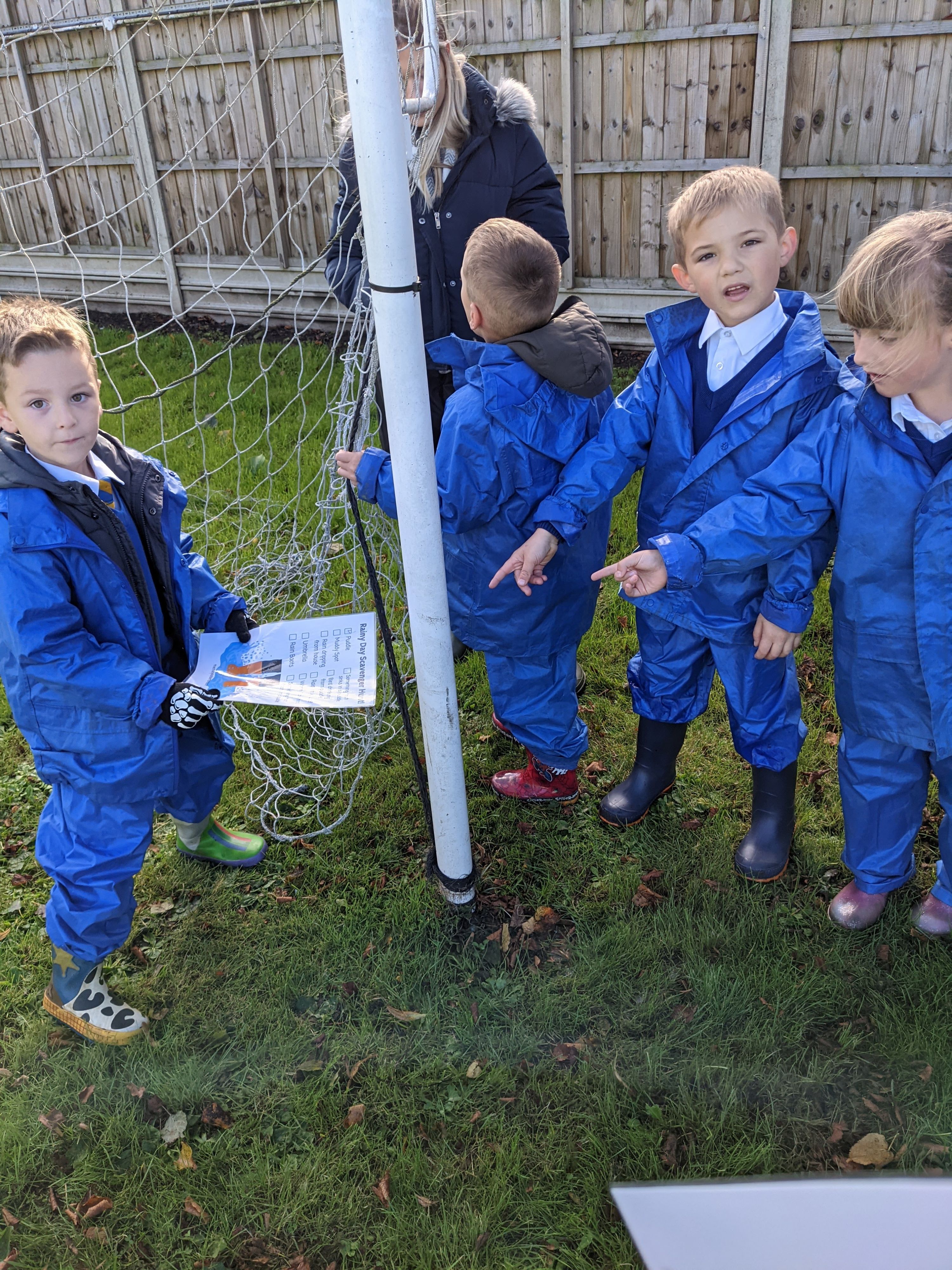 We have experimented further with the wind in Year 2 (Eagles) and made our very own parachutes and had a go at launching them in the playground.
We all had lots of fun trying to work out what would make the best passenger.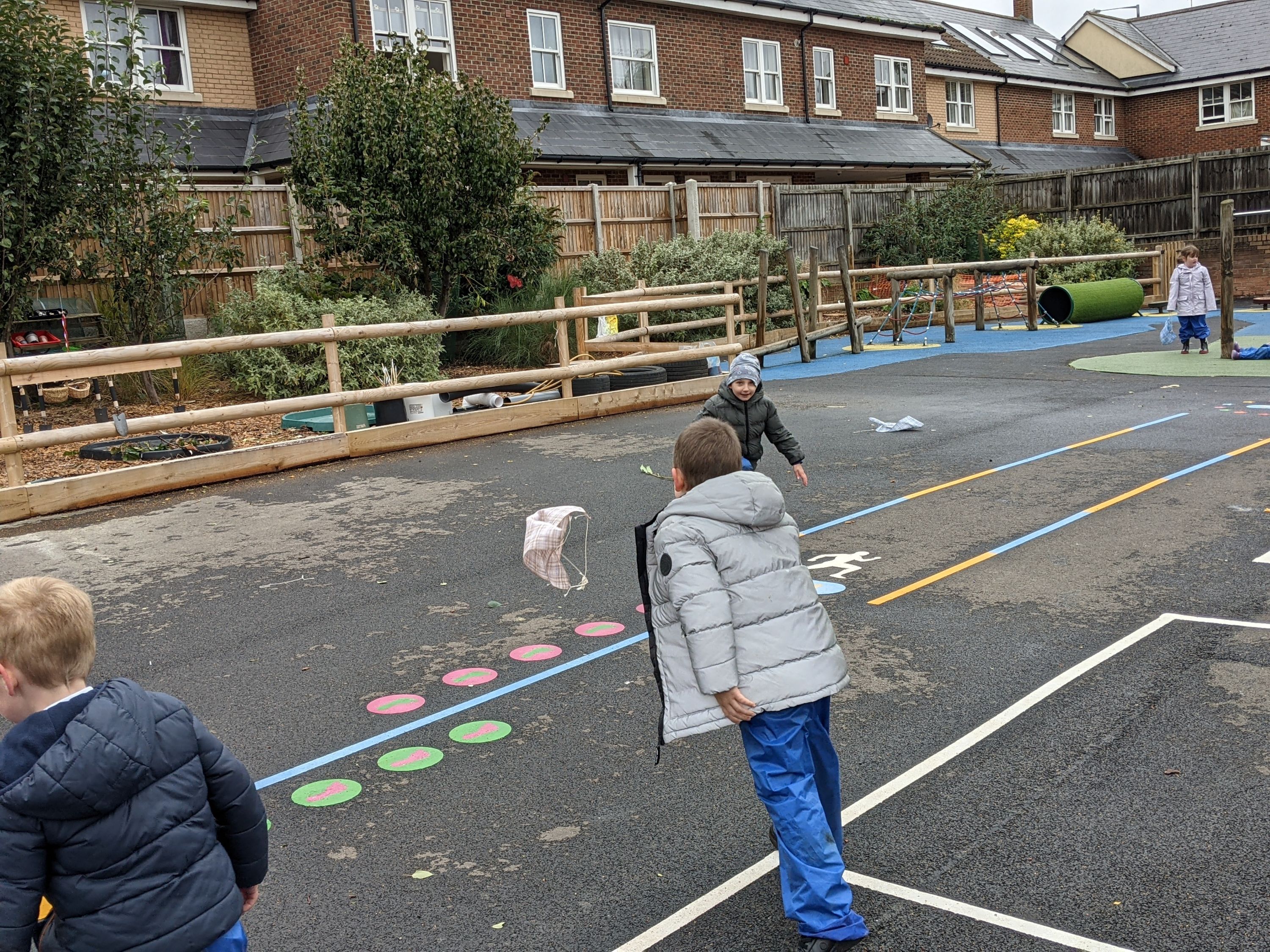 And following on from the Jolly Postman activities in Year 1, we made leaf crowns for Cinderella. We gathered lots of natural materials in buckets, looking at colour and texture as we went. Year 2 and Reception have also enjoyed making leaf crowns for King Rex as we have been reading "Where the Wild Things Are" for our Outdoor Learning story.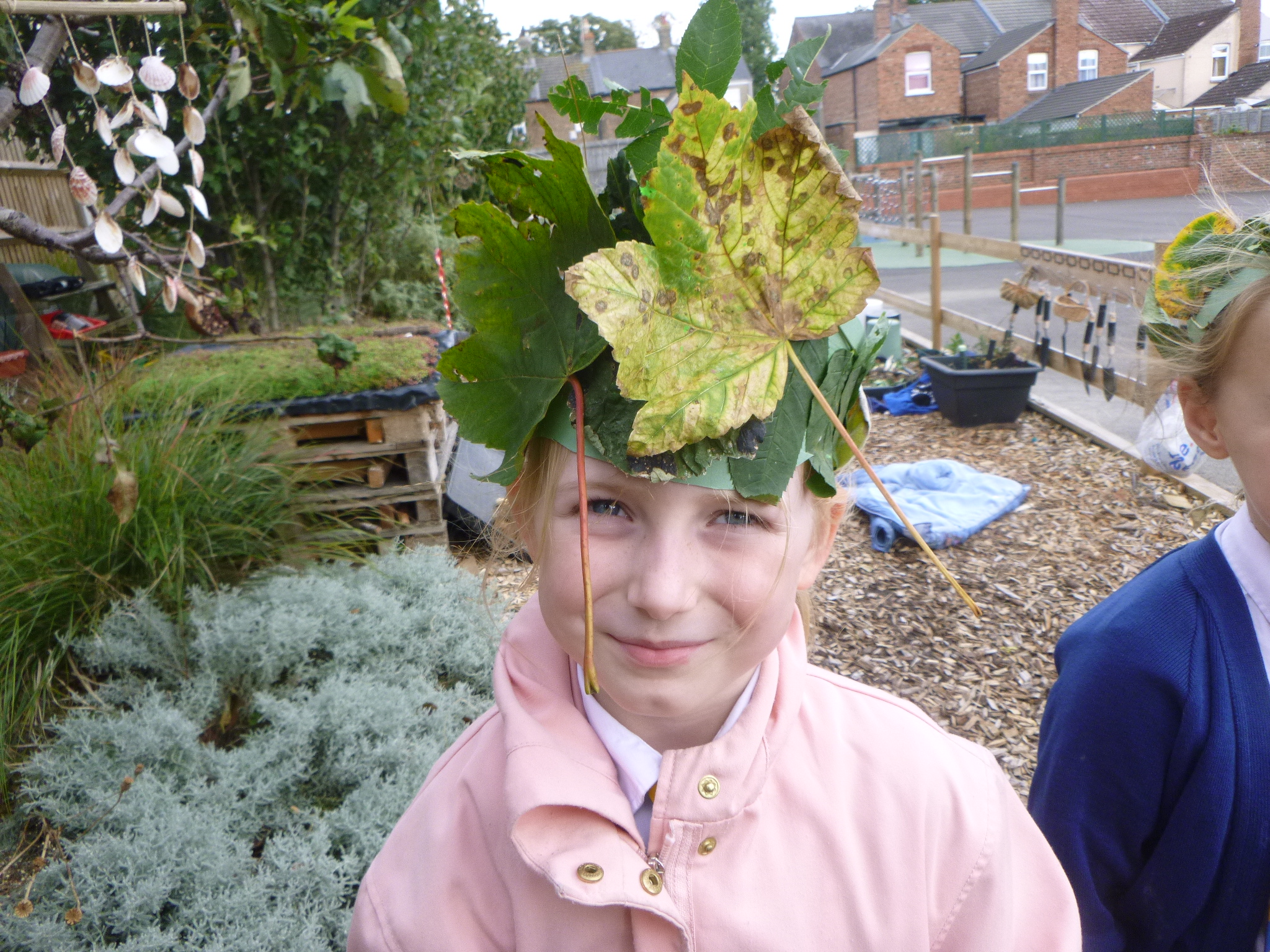 We have all also enjoyed some free time in Outdoor Learning, making more transient art, gathering poppy seeds from the dried seed heads, listened to and looked at various aircraft as they have passed overhead, learnt some bug songs, much digging and pretending to be Archaeologists - a child led activity following on from Year 1's learning in class.
It has been an exciting start to our new Outdoor Learning adventures!
Reception (Robins), Year 1 (Puffins) and Year 2 (Eagles) have all been hunting for signs of the new season: Autumn. We have gathered fallen leaves of many types and talked about why the leaves change and fall, eaten fruit from our fruit trees and planted the seeds, visited the school garden and sampled some of our school grown produce as well as smelling and experiencing some edible plants and herbs, alongside collecting sticks, pine cones and other Autumnal treasures to create some amazing pieces of transient art.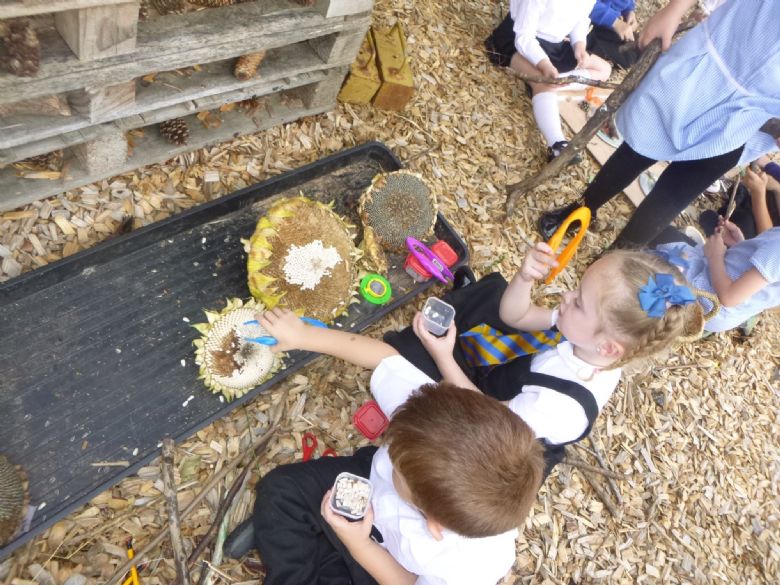 Reception have recreated their Power Reading Book "Going on a Bear Hunt" using the sensory grasses, trees, mud, a (hose created) river and a swirling snow storm - thanks to a white tarpaulin. They have also built dens and had a visit from a bear!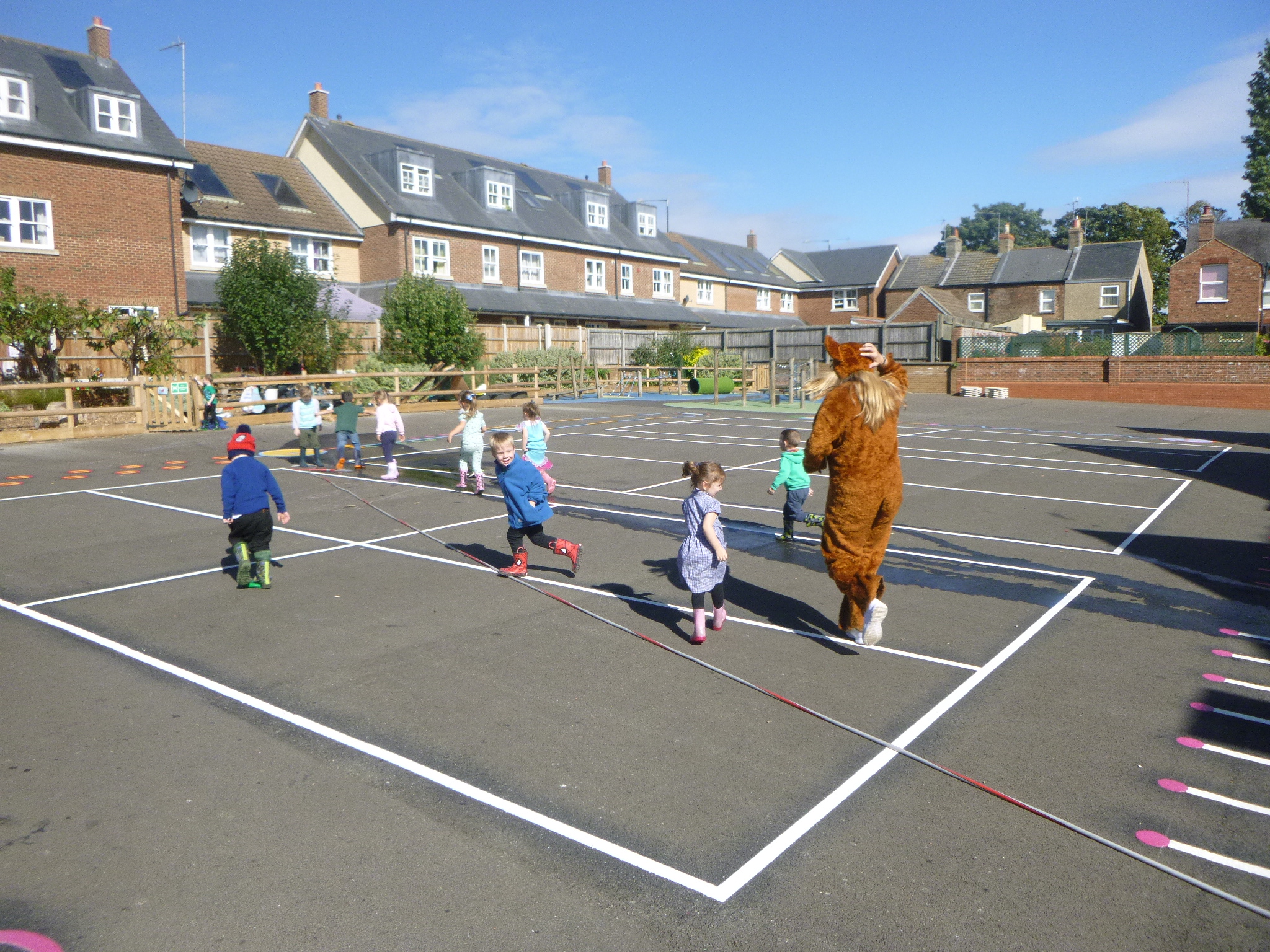 Year 1 have been investigating further into their Power Reading Book "The Jolly Postman" by gathering sticks of different length and size to recreate the Three Bears, using natural resources alongside wool, string and paper. As well as finding beans and seeds, linked to Jack and the Beanstalk, making bean art and planting a lot of seeds wildly in the outdoor classroom.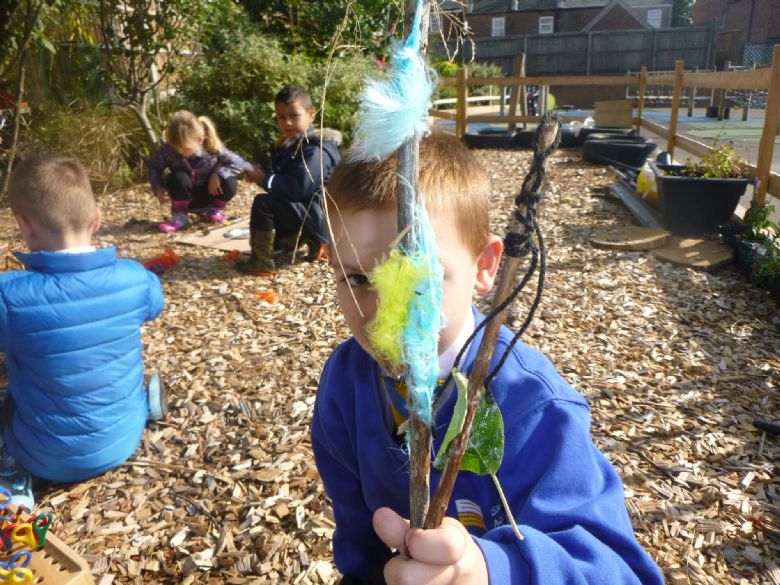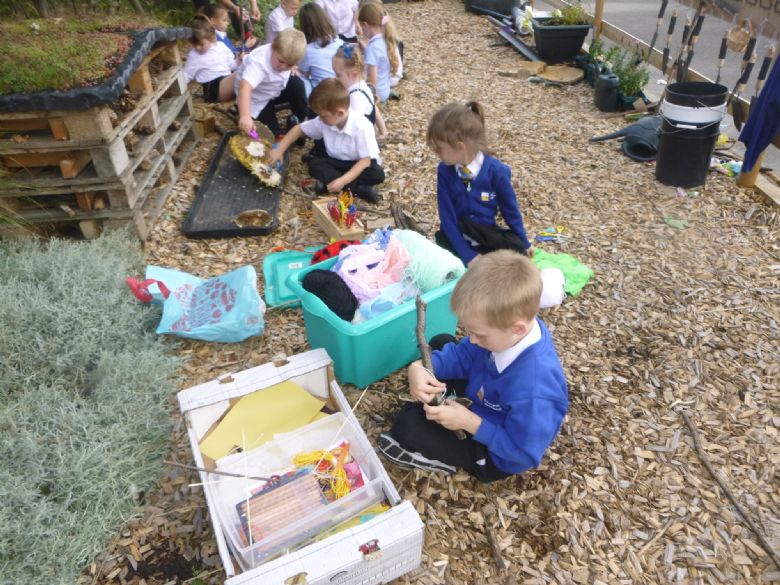 Year 2 have been experimenting with Moth designs, linked to their Power Reading Book "Moth" using ink, salt and pepper, to create amazing designs that are completely unique. As well as using the natural resources for rubbings that look like camouflage.
The weather has provided us all with the opportunity to be out in the rain investigating water, making chutes and slides, catching raindrops on our tongues and of course puddle jumping. While the wind has let us make leaf kites, natural wind streamers and practise our speed to see who is faster - us or the clouds!