Owls - 8-10-2021
Can you believe that we have been back at school for five weeks! I certainly can't.
It has been another productive week.
In Maths, Year 6 have been tackling division of four-digit numbers by two-digit numbers.
In Literacy, we have been perfecting our ability to tell a story and the children have learned many techniques to remember the story sequence and speak with confidence.
In Art, the children are learning about abstract art and have considered paintings by Mondrian, Pollock and Delaunay.
We have completed our History topic on Baghdad by studying the decline of the city and its final destruction by the Mongol army in 1258CE.
In our RE lesson we have learned about the importance of prayer to believers in a wide range of religions.
In Science, we have compared the growth stages of a range of mammals and created some very impressive graphs.
It was the turn of Owls class to perform the song that they have been learning in Singing Assembly today. They did an excellent job and were very tuneful. Sadly, there is no video evidence but hopefully you will like the attached photo of the performance.
Best wishes for the weekend
Mr Hothersall, Mrs Mason & Claire.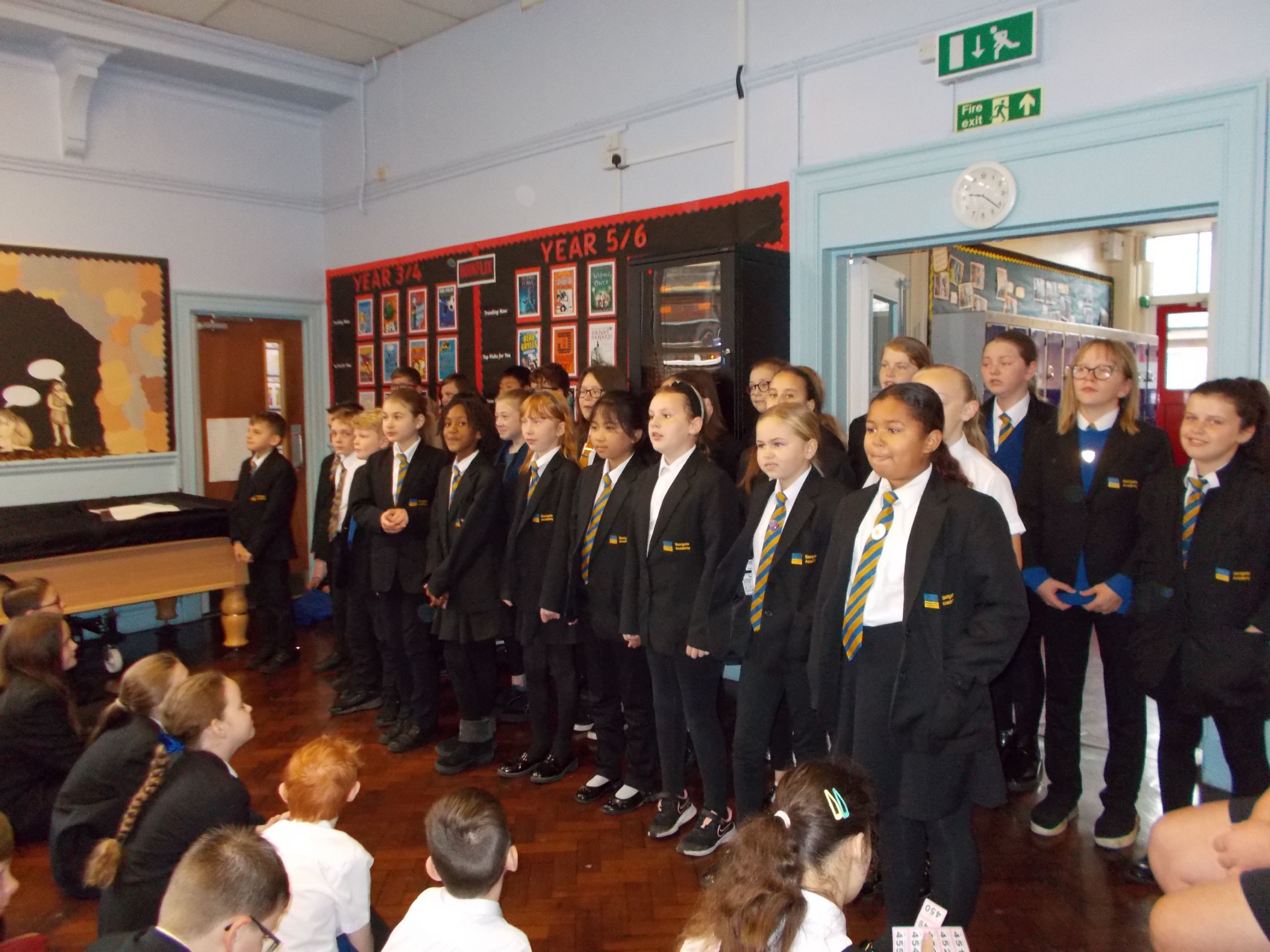 Owls - 1-10-2021
It has been another good week in Owls class - we have been learning a great many interesting things.
In Maths, Year 6 have been using written methods to solve addition, subtraction and multiplication problems, while Year 5 have been consolidating their understanding of place value.
In Literacy, we have been exploring more stories from the 1001 Arabian Nights. We are working on re-telling a story from memory.
In Art, we have been comparing and contrasting the Rococo style with the modernist style and coming up with a chair design.
History has seen us continuing to study the city of Baghdad. We are looking back to the year 900 and discussing how influential the city was in the world at that time.
In RE, we have spent time thinking about how people worship in different religions.
This week in our Human Body topic, we have been learning about the changes which take place as our bodies and minds go from adulthood to old-age.
In Music, Mrs Mason has been helping the children learn the classic Bon Jovi track Livin' on a Prayer.
Thank you Owls class for all your hard work.
Mr Hothersall, Mrs Mason & Claire.