What am I going to learn in RE?
Year 1 – Caring for Others
This unit will teach your child how they can be kind to each other and look after one another. Children will learn about kindness and the importance of caring for others, by exploring the values of different religions. This includes reading stories from different faiths and learning about religious festivals and practices. In the final lesson of the unit, children will begin to explore a story from different perspectives.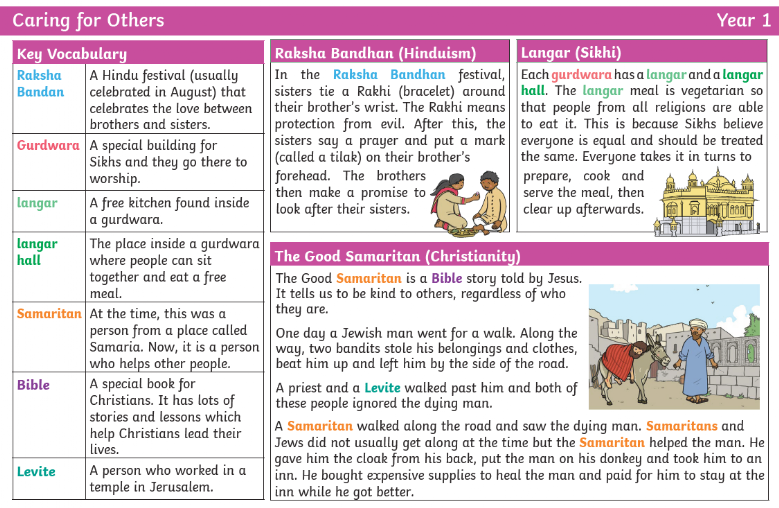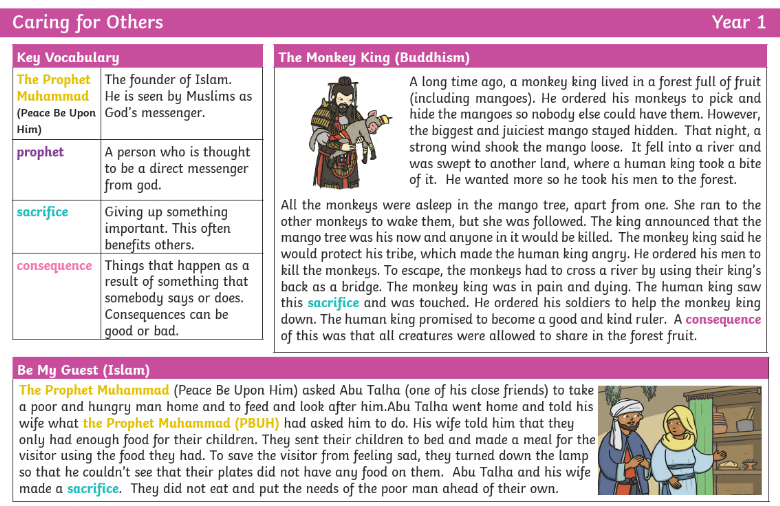 Year 2 – Nature and God
This unit will teach your child about how nature can be important across religions and encourage them to make links between religions. Children will learn the Christian Creation story, about the importance of harvest to some Christians and Jews by learning about harvest festivals and Sukkot. Children then go on to hear stories from Buddhism and Islam which highlight the importance of looking after nature. They then go on to think about how the messages in these stories can help them in their everyday lives.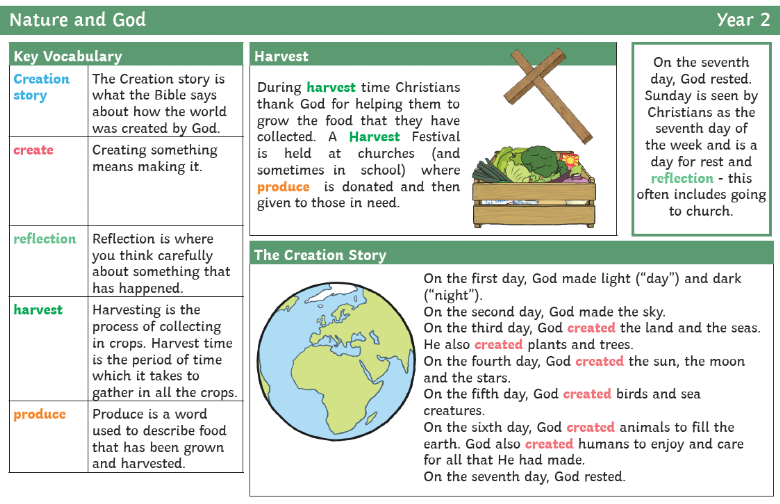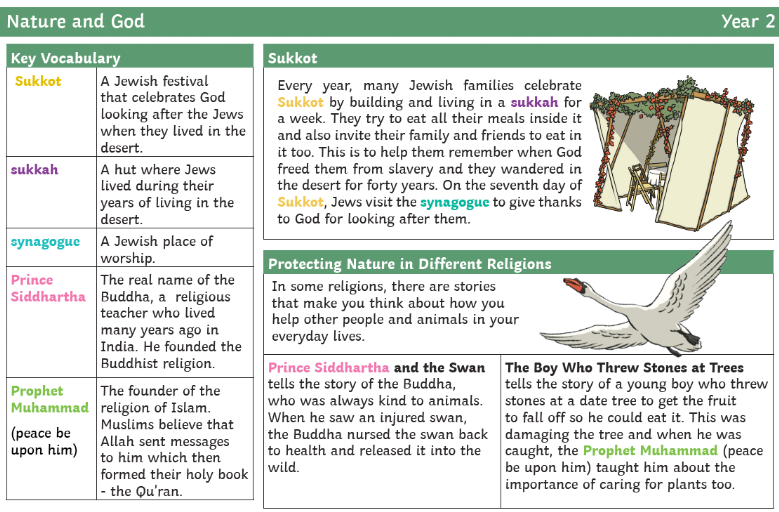 Year 3 – Hinduism
The Hinduism unit gives children an overview of Hinduism, focusing on its origins, core beliefs, festivals and special places. Children will explore the different holy books, identify key Hindu symbols and understand their meanings.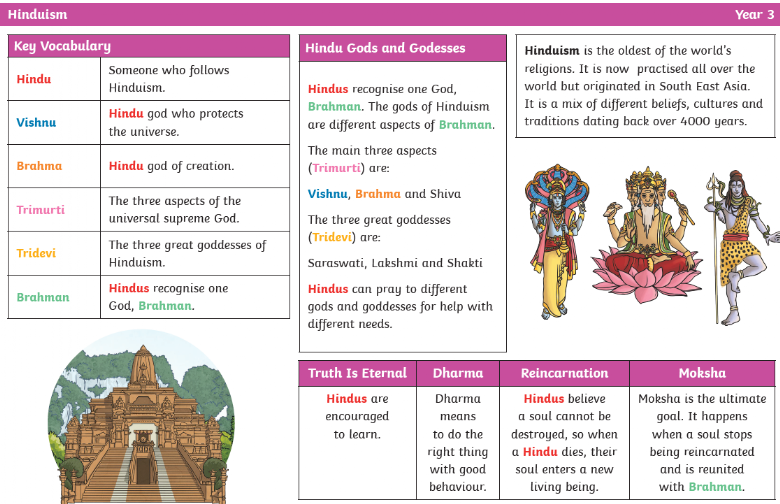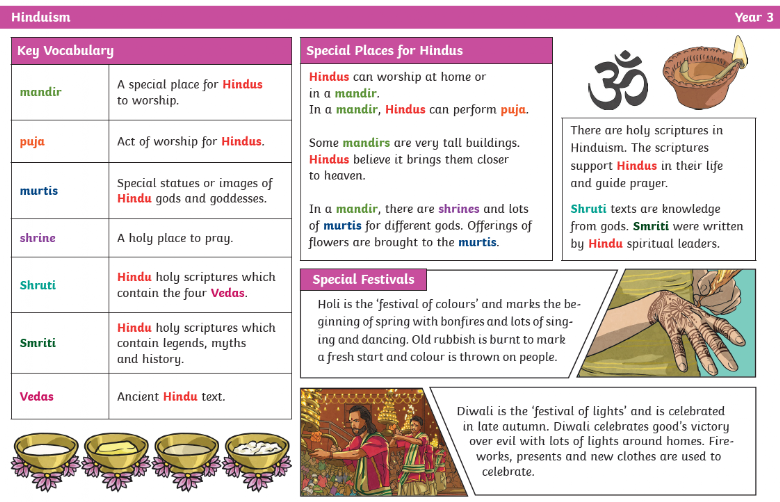 Year 4 – Buddhism
This Buddhism unit will teach your child about key aspects of the Buddhist faith. The children will work creatively to enhance their learning experience. They will find out where Buddhism originated, about special places linked to Buddhism and about key festivals in Buddhist life. The children will also learn about symbols in Buddhism, the Buddhist holy book and the main beliefs held by Buddhists.
Year 5 – The True Meaning of Christmas
This Christianity unit will teach your child about the true meaning of Christmas for Christians. The children will work creatively to enhance their learning experience. They will start by questioning the meaning of Christmas to them and then learn about the Christian meaning of Christmas. The children will question if the true meaning of Christmas is still present today and question if the meaning has changed for some.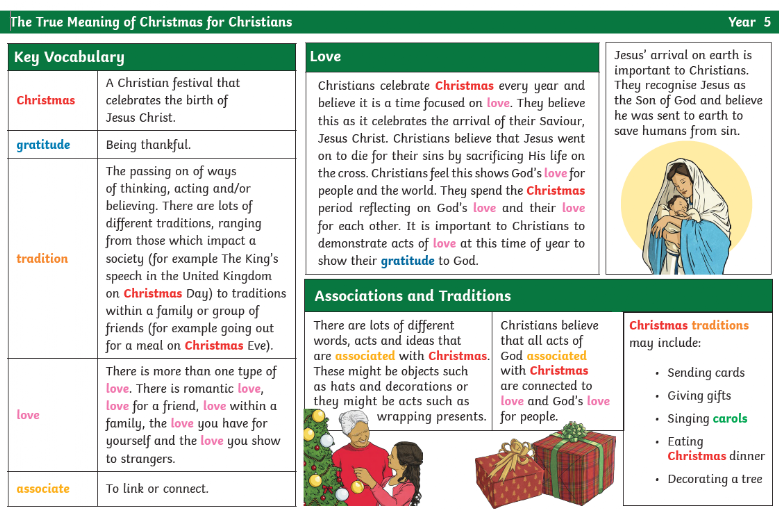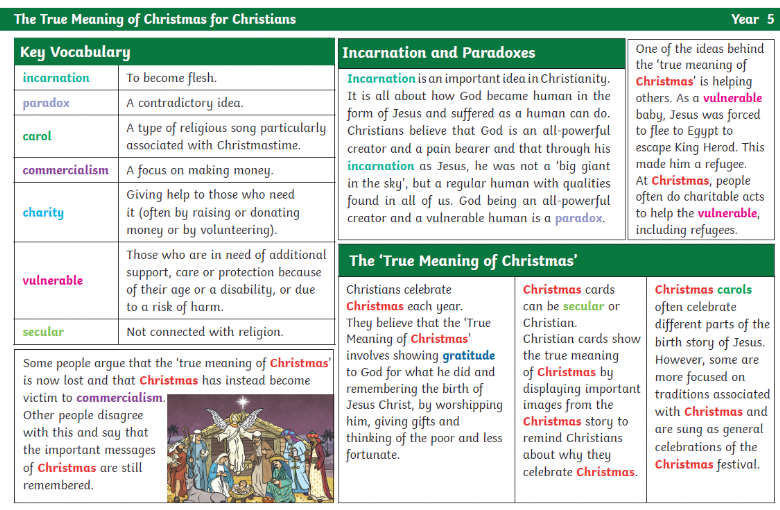 Year 6 – The Christmas Story
This unit will look at The Christmas Story in depth and encourage children to look for differences and similarities in the two accounts within the Bible. The children will investigate traditions associated with celebrating Christmas both here and around the world.